The network compares the images of Kate Middleton and Princess Diana at the premieres of James Bond films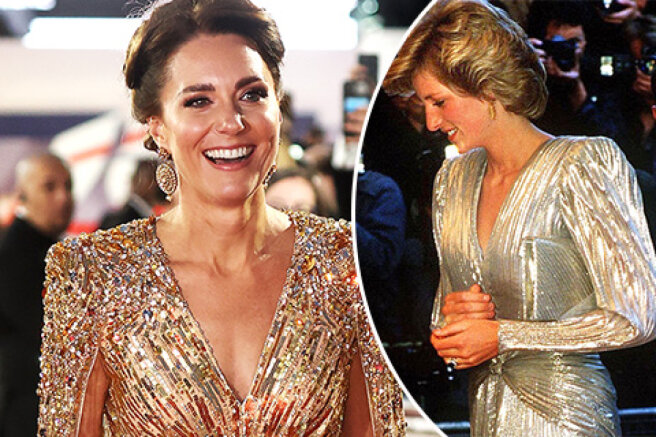 The exit of 39-year-old Kate Middleton yesterday at the premiere of the film "It's not time to die" in London made a real sensation! The Duchess of Cambridge outshone all the movie stars and looked like a real movie star herself in a gold Jenny Packham dress.
Today, everyone continues to discuss Kate's outfit, and also compare it with the release of Princess Diana at the premiere of another James Bond film - "A View to Murder" in 1985, where the main character was still played by Roger Moore. Netizens are sure that Middleton made her fashion choice for a reason and thus wanted to honor the memory and pay tribute to Princess Diana.
Of course, the dresses are not identical in cut: Kate had this cape dress embroidered with sequins, Diana had a pleated silver lamé. But there are certainly common features. So, it is worth noting the drapery in the belly area, the neckline line and, of course, the glitter of the outfits.
Recall that the Duchess of Cambridge's outfit was created to order — there was no cape in the original model of the brand worth 2,800 pounds. Kate also complemented her look with earrings from the Pakistani brand Onitaa, which she wore for the first time when she visited this country as part of a royal tour, and Aquazzura shoes.
By the way, the reference to Diana is far from the only fashionable hint that can be considered in the image of Kate. So, golden dresses are very fond of Queen Elizabeth II — she appeared in them at receptions, both when she was very young and at a more mature age.