Kate Moss, cocktails and a horror movie: mannequins Jordan Barrett and Fernando Casablancas got married in Ibiza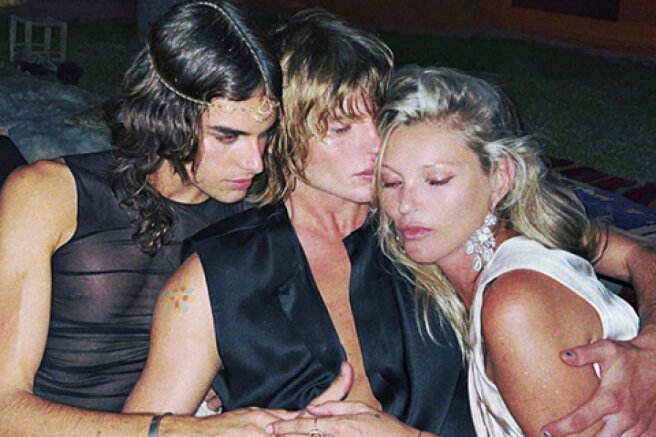 This year, experts have already noted an increase in the number of weddings — everyone who could not celebrate the celebration in 2020 due to the pandemic is in a hurry to do it now. And celebrities also support this statistic with their own example. Although sometimes we are talking not about long-planned, but about very spontaneous weddings.
So, the other day, a 24-year-old Australian fashion model Jordan Barrett and 23-year-old Fernando Casablancas, a model and the younger brother of the lead singer of The Strokes, Julian Casablancas, played a wedding.
The ceremony, which brought together no more than 15 guests, took place in Ibiza. The couple invited only the closest friends, among whom were also models Kate Moss, Georgia May Jagger and Mona Tugard, as well as photographer Mert Alas, who recently managed to hang out in Ibiza and with Irina Shayk.
The celebration itself was held outdoors, after the first dance, the newlyweds took a dip in the pool, and then went with the guests to watch the 1977 horror film "The Island of Dr. Moreau".
In the comments to the photo from the wedding, many celebrities congratulated the couple.
Your children will be very beautiful,
- written by Helena Christensen.
So happy for you,
Derek Blasberg wrote.
Elsa Hosk, Pat McGrath, Brandon Maxwell, Carolyn Murphy and others also joined the congratulations.
Everything was very spontaneous, but the wedding organizer Serena Cook was able to make everything so that the wedding was special, since Jordan's family from Australia could not attend it. Champagne and cocktails flowed like a river, everything was very relaxed. Kate Moss took out the wedding rings and really made sure that the day was special for him,
- said a source from Barrett's entourage.
Jordan really has a close relationship with the supermodel of the 1990s: the model cooperates with the Moss agency, and recently joint photos have often appeared on his blog. Because of this, many began to suspect an affair, but as it is now clear, these rumors were groundless, and Jordan and Kate are bound by friendship.
However, the intrigue was also provoked by Barrett's post made on July 20 (then it was deleted). In it, the model admitted that he got engaged, but preferred not to disclose with whom he decided to link his life.
I believe in love, not traditional love, so I think I'm just starting a new chapter in my life.... I just got engaged on this date, yeah,
- Jordan wrote then.
So subscribers could only guess, especially since Jordan had previously been credited with affairs with many celebrities. So, this year there were also rumors about his romance with model Stella Maxwell, and earlier he was credited with relationships with Caroline Vreeland, Paris Hilton, Hailey Bieber, Sofia Richie and even with Bella Hadid — later the model explained that they were just friends.
Jordan did not make a public cuming-out. In the modeling business, Barrett is known for shooting in Tom Ford, Balmain, Versace, Moschino and Coach campaigns, participating in shows and shooting in magazines.
Fernando Casablancas comes from a family whose members are known not only in the music, but also in the modeling business. So, his father John Casablancas (he died in 2013) was a famous model scout and the founder of Elite Model Management. Among the Elite models were Cindy Crawford, Naomi Campbell, Linda Evangelista and Claudia Schiffer, so Casablancas is considered one of those who was able to develop the concept of supermodels in popular culture, and made a significant contribution to turning models into new celebrities, which were written about by all the major media.
Fernando himself also tries himself in the modeling business and takes part in fashion shoots. So, he previously starred in the Abercrombie & Fitch campaign.