Madonna travels with boyfriend Ahlamalik Williams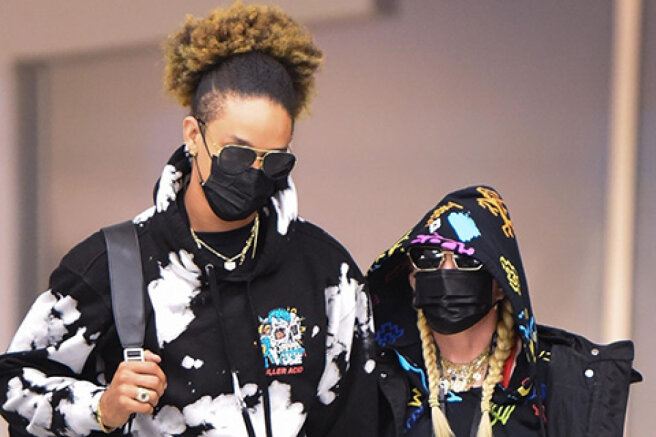 62-year-old Madonna does not sit still: the star leads an active lifestyle and quite a stormy concert activity. At the same time, she always has time for family and personal life.
Yesterday, the singer, along with her 27-year-old boyfriend Ahlamalik Williams, was filmed at the airport in New York. The lovers, hiding their faces behind sunglasses and medical masks, walked hand in hand. Later, the couple was joined by the children of the star: 15-year-old Mercy James and David Banda.
For three years of relations with the queen of the pop scene, professional dancer Ahlamalik Williams has already become a real member of her family: they spend a lot of time together, travel and relax, and he found a common language with his beloved's six children. Madonna herself calls Ahlamalik her love and says that he opened her eyes.
The couple has known each other for more than six years — Madonna personally selected Williams from among the dancers for her Rebel Heart tour. Then he began working with her on a permanent basis, and feelings flared up between them.
The age difference does not bother the couple. Akhlamalik's father also sees nothing shameful in this, who is very happy for his son and believes that all ages are submissive to love.
Madonna is two years older than me. But I told my son that there is no age limit for love, if you are both adults and everything happens by mutual consent,
— he noted.
The star is familiar with the family of her boyfriend and maintains good relations. She even arranged a dinner for Akhlamalik's family during a tour to Las Vegas. According to sources, she assured the boyfriend's relatives that she loves him unconditionally and wants to take care of them.