Married billionaire and ex-Google CEO Eric Schmidt is dating a 27-year-old businesswoman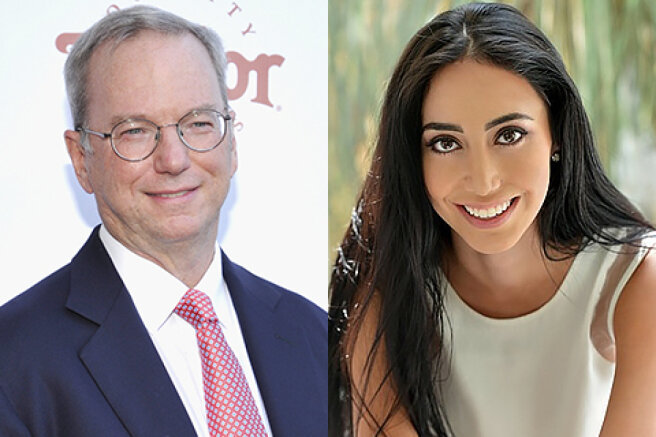 66-year-old former Google CEO Eric Schmidt is dating 27-year-old technology entrepreneur Michelle Ritter. Their romance was revealed by journalists the other day when they appeared together in New Mexico at a ceremony dedicated to the departure of billionaire Richard Branson on a suborbital flight.
Hot kisses and hugs of Eric and Michelle did not get into the frame, but the publication Page Six claims that the couple has been together for some time. Interestingly, earlier The Post called Eric Schmidt one of the"hottest bachelors in New York". At the same time, officially Schmidt is still married. Eric has been married to Wendy for more than 40 years, and the couple has two adult daughters. The Schmidts have an open relationship that does not prevent the billionaire (his fortune is estimated at $ 21.4 billion) from having affairs on the side.
The new chosen one of the richest people in the world, according to Forbes, graduated from the law faculty of Columbia University and is engaged in business in the field of technology. According to Page Six, Michelle Ritter has founded a number of financial trading platforms, and also heads a management company specializing in technologies.
According to open information on the web, Michelle used to do cyber research at Stanford and worked with the Department of Homeland Security in the field of cybersecurity. She also conducted research at the Institute of State Efficiency and collaborated with the Government of Afghanistan. Ritter holds a bachelor's degree in Economics, international Studies and political science from Johns Hopkins University.
Michelle is not the first girl with whom Eric Schmidt is noticed. Previously, he also had affairs with journalist Kate Boehner, vice president of communications at the Council on Foreign Relations Lisa Shields, pianist Cho-San Nguyen, socialite Ulla Parker and not only.