Cannes kiss: Adrian Brody and his beloved Georgina Chapman at the premiere of " The French Messenger"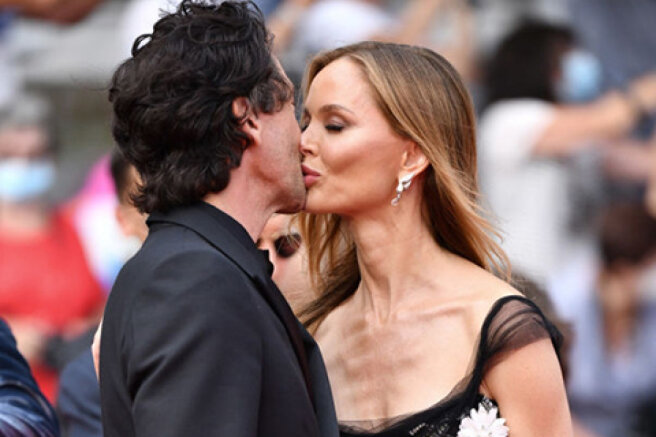 Yesterday in Cannes, perhaps the most stellar premiere of the festival took place at the moment — as part of the competition program, Wes Anderson's new film "The French Messenger..." was shown. The director is famous for always inviting many famous actors to his films, even for episodic roles, so this time the casting was very impressive: Tilda Swinton, Timothy Chalamet, Benicio del Toro and many others.
48-year-old Adrian Brody, who also played one of the roles in the new comedy drama, also came to the premiere. He appeared on the track with his beloved, 45-year-old Georgina Chapman, the ex-wife of film producer Harvey Weinstein, who is currently serving a prison sentence in a harassment case.
To go out on the track, Georgina chose a dress of her own brand Marchesa.
Rumors about the couple's affair appeared at the beginning of last year, but reporters could not find confirmation of them for a long time. The stars themselves did not comment on anything, and there was no need to wait for appearances at events during the world lockdown.
For the first time together, Adrian and Georgina came out quite recently — it happened in New York at the Tribeca Film Festival.
This time the couple was even more relaxed, and even kissed in front of the cameras. However, it seems that Brody did not really count on the work of photographers. The actor grabbed his own smartphone on the track and actively took selfies with his beloved.
Recall that Georgina was married to Weinstein for 11 years. She filed for divorce in 2017 after dozens of women, including famous actresses, came forward with allegations of sexual harassment by the producer during the years when he was at the helm of the Miramax studio. It was reported that during the divorce, Chapman received about $ 20 million from her ex-husband. In addition, she got custody of their children: 10-year-old India and eight-year-old Dashiell.