A rare exit: Vanessa Paradis with her husband Samuel Benshetri presented the film in Cannes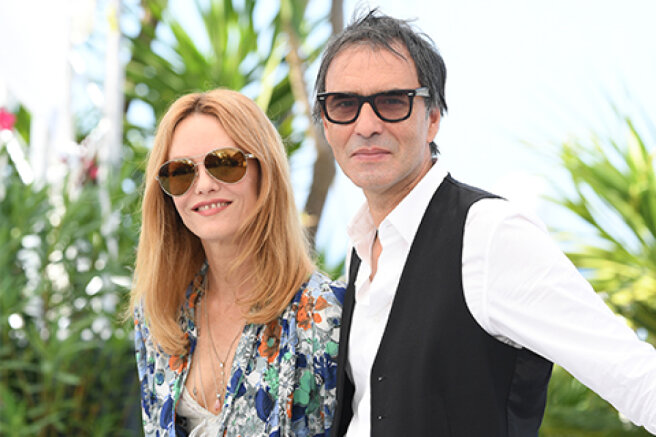 The 74th Cannes Film Festival continues in France. Today there was a photocall of the film "Music that no one hears" (Cette musique ne joue pour personne), the stars of which were Vanessa Paradis and her husband, director Samuel Benshetri. They pleased the fans with a joint release and creation. The couple have not appeared in public together for a long time, although they were often seen on dates before.
The 48-year-old actress posed for photographers in a bright dress. The floral print of the outfit in red and blue tones was in harmony with the red sandals. The French actress complemented the image with an elegant accessory-a necklace made of many thin chains with a blue stone pendant around her neck. A bright manicure balanced the makeup in the nude style.
The company of Vanessa and Samuel was made by the actress Valeria Bruni-Tedeschi. The genre of the Franco-Belgian film is comedy. In the story, in a port city in the north of France, the atmosphere of violence and evil is destroyed under the onslaught of art and love.
It will be an absurd, but poetic comedy,
- director Samuel Benshetri described the film.
In the film "Music that no one hears", Vanessa Paradis performed not only the main role, but also the role of a muse for her husband, the director.
The lovers got married in 2018 after a long pause in Vanessa's personal life after breaking up with Johnny Depp. Then at the age of 45, Vanessa got married for the first time.
Recall that from 1998 to 2014, Paradis was in a relationship with actor Johnny Depp, who is now mired in the courts with his former lover Amber Heard. The former couple has two children — 22-year-old daughter Lily-Rose Melody Depp, who is already mentioned in the media more often than her famous mother, and 19-year-old son John Christopher "Jack" Depp.