Prince William and Prince Harry unveiled a monument to Princess Diana in London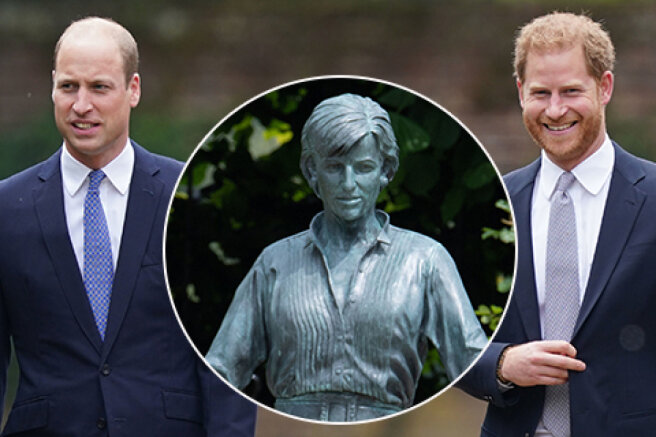 If not for the tragic accident in Paris in 1997, which claimed the life of Princess Diana, today she could have turned 60 years old. On her birthday, her sons, Prince William, 39, and Prince Harry, 34, unveiled a monument to the Princess of Wales in the garden of Kensington Palace.
The sculpture represents Diana accompanied by a boy and a girl, the princess herself is immortalized in an outfit of a blouse and skirt. It is worth noting that Diana has always treated children with special warmth and always sincerely hugged and greeted the youngest viewers during official trips or events. The author of the monument was Ian Rank-Broadley.
The ceremony was not attended by the former husband of Princess Diana and the father of Harry and William, 72-year-old Prince Charles. It became known a few days ago that we would not be doing it. According to sources of The Times, the Prince of Wales does not want to "reopen old wounds" and "finds this event too difficult".
However, with great curiosity, everyone was waiting for the reunion of Princes William and Harry, who, according to rumors, do not get along very well after Harry's departure to the United States and the scandalous interview of his wife Meghan Markle, in which accusations of racism against the royal family and attacks against Kate Middleton were made.
However, even if there are disagreements, the brothers behaved very decently in public: they walked together to the monument and pulled off the cover that covered it, and also talked quite amicably.
A joint statement of the brothers also appeared on the official Instagram of Prince William and Kate Middleton.
Today, when our mother would have turned 60, we remember her love, strength and character-qualities that made her a symbol of good throughout the world, changing countless lives for the better. Every day we want her to still be with us, and we hope that this statue will forever remain a symbol of her life and her legacy. Thank you to Ian Rank-Broadley, Pip Morrison and their teams for their outstanding work, to the friends and sponsors who helped in this, and to all those around the world who keep the memory of our mother alive,
- it says in it.