Kanye West reacts to news of Kim Kardashian and Pete Davidson's breakup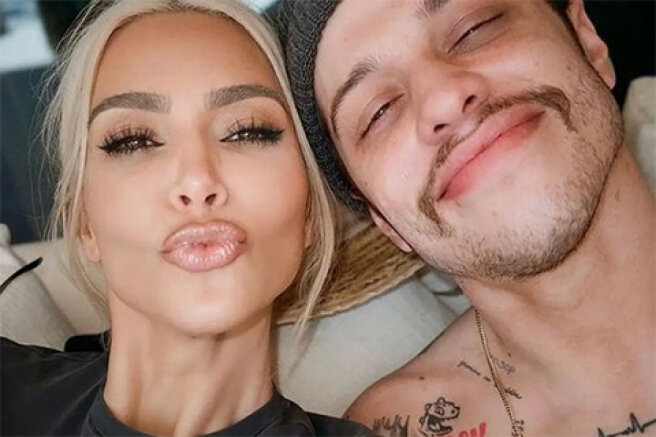 Kanye West reacted to the news about the breakup of his ex-wife Kim Kardashian with comedian Pete Davidson. On Instagram*, the rapper posted a fake cover of The New York Times with the following caption:
Skeet Davidson died at the age of 28.
The nickname "Skeet" West awarded Davidson at the beginning of the year and called him that every time he spoke about his relationship with Kim. The rapper immediately disliked the boyfriend of his ex-wife and constantly got into skirmishes with him on social networks. For example, Kanye even threatened to beat up Davidson.
On February 14, 2022, West posted on Instagram* an image of a man holding another in a choke hold. The rapper wrote:
At my wife's request, please don't do anything to Skeet, I'll deal with the situation myself.
Why he began to call Kim's chosen one that way, West did not explain. But the nickname Skete that West uses for Davidson definitely sounds like Pete. In addition, similar and consonant words are common as slang. For example, the word sket is used to refer to someone who doesn't care about morals and sleeps with anyone without thinking about whether these people are in a relationship. The word skeet refers to ejaculation, and the word skeeter usually denotes a representative of the so-called "white trash"
Thanks to Kanye West, the word skete has already entered the popular Urban Dictionary slang dictionary. He was given the following definition:
Pale, skinny white dude who sleeps with your ex.
Kim Kardashian filed for divorce from Kanye West in 2021 after seven years of marriage, and the divorce was finalized in March 2022. The rapper was very emotional about parting with his wife. At first, West publicly stated that he wanted to save the marriage, and then he began to conflict with his ex-wife, including because of the children. Kanye stated that Kim does not allow him to see them.
*Instagram is owned by Meta, a recognized extremist organization in the Russian Federation