The network discusses the kiss of Selena Gomez and Cara Delevingne in the series "Murders in the same building"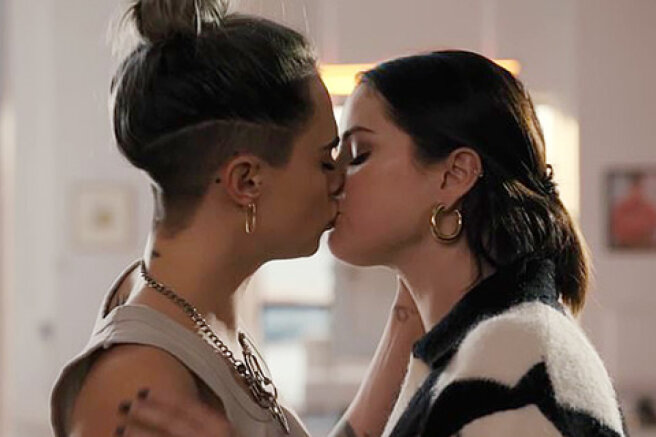 The Internet is discussing the second season of the comedy-detective series "Murders in one Building", where Cara Delevingne starred as a guest star. Already in the second episode, a romantic scene takes place between her heroine Alice and Mabel, played by Selena Gomez: a conversation about art ends with a passionate kiss.
It was fun. Would anyone in the world refuse to kiss Selena?
— Kara is talking about the filming of this episode. The model explained that she was very comfortable filming, as she and Gomez are old friends.:
We almost never see each other because we are constantly busy, so it was great to spend so much time with her, it's great to work together with her — regardless of whether you know each other or not. She's brilliant, one of the best actresses I've ever starred with.
Earlier, while the season was shooting, the model also shared her impressions with the press more than once — she said that she and Selena were "dying with laughter, chatting and gossiping" on the set.
The girls have known each other since they were 15 (Kara and Selena are the same age, both will turn 30 this summer).
Gomez also admitted that she was delighted with filming with Delevingne, because "it's like working with a childhood friend."
Telegram channel "Only to no one" tells:
In real life, they are best friends. A couple of years ago, the girls were even credited with an affair. According to Selena in an interview, Kara helped her deal with her sexual orientation. But without details. Delevingne has been coming out for a long time, but Gomez, after an affair with Bieber, no longer shone her personal life. They even made paired tattoos in the form of a watercolor rose. Selena has it on the back of her head, and Kara has it on her ribs. "Rosebud" is how Delevingne affectionately calls Gomez in life.
When the tabloids wrote about a possible romance between the girls a few years ago, Selena said that she was "not against these rumors":
At least the press finally started talking about some other people in my life, that's fine,
— said the actress, whom journalists had previously mainly discussed in connection with her relationship with Justin Bieber.