Ewan McGregor spoke about the difficult divorce and his daughter's reaction to his new family: "There was alienation"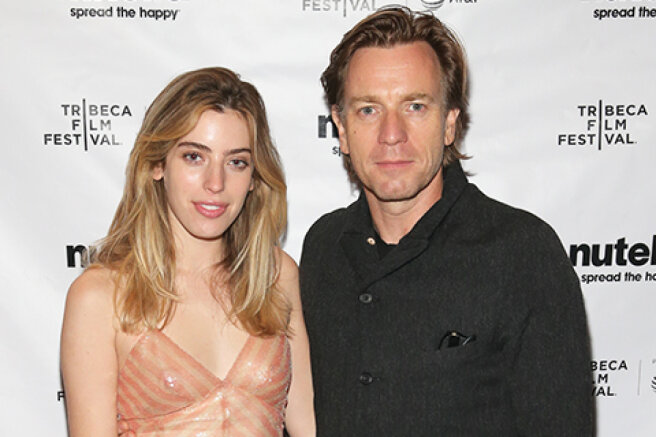 In an interview with British GQ, actor Ewan McGregor talked about how his views on parenting have changed with the appearance of his son, as well as about the difficult period of his relationship with his daughter Clara from a previous marriage.
The relationship with the eldest daughter, 26—year-old Clara, has been a real test of strength in recent years. In 2017, after more than 20 years of married life, Evan filed for divorce from Clara's mother, Eva Mavrakis. Then the press got paparazzi photos of the actor kissing his colleague in the movie "Fargo" Mary Elizabeth Winstead. Clara reacted quite sharply to these photos: she insulted Mary, and called her father an "asshole."
But recently, Evan and Clara's relationship has warmed up again — largely thanks to the work on a joint film, the idea of which came to Clara.
The film "You Sing Loud, I Sing Louder" (You Sing Loud, I Sing Louder) is dedicated to a father and daughter trip, where Evan's character takes his daughter, played by Clara, to a rehabilitation center. Although the trip itself is fictional, the characters' relationship and the fact that the father is trying to help his daughter are based on Clara's own experience.
She told me that she came up with the idea to write a story about us. I was a little nervous at first. I didn't know what that meant. I sat down to read it and I was shocked. It was a beautiful story about us. There are inaccuracies and inventions, but they still reflect our alienation for a while. I was so impressed by the story, the humor. There is a kind of recognition in this, which I was very proud of and which brought us closer together. I felt that she understood more than I thought,
McGregor said.
The actor noted that his daughter accepted his position, and also understood what it means to "bring up someone who is in a difficult situation."
It's a hell of a situation. You're so afraid of what might happen. You'll do anything in the world to stop losing them.
Evan also commented on his difficult divorce and unpleasant separation from his first wife.
Divorce in the family is a bomb explosion in everyone's life and in the lives of my children. Recovery after that is still ongoing,
— the actor admitted.
This year, the Scottish actor married Mary Elizabeth Winstead, with whom he has a one-year-old son, Laurie. Evan admitted that he revised his view on the balance of work and personal life and now, by all means, wants to be present in the baby's life as much as possible.
I just want to be there. I don't want to go to Romania for four months [to shoot]. If it is necessary, then it will be necessary, but I will do my best to prevent this,
— said McGregor, noting that for decades he lived in such a way that he did not stay in one place for more than four months.
The period of the birth of children in McGregor's first marriage with Eva Mavrakis coincided with the rise of his popularity after the release of the film "On the Needle" in 1996.
I used to just feel like a gypsy nomad. Yes, I was always a father first of all, but I was constantly absent,
Evan admitted, speaking about raising four daughters from his first marriage.