Disney, Netflix, Condé Nast, Meta* will pay for abortion trips to other states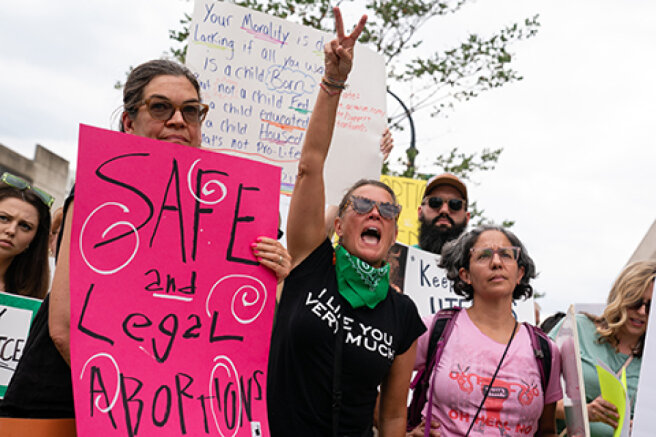 After the U.S. Supreme Court overturned the 1973 Roe v. Wade ruling that recognized abortion as a constitutional right, a wave of protests swept across the country. Abortion bans are already in effect in Kentucky, Louisiana, Missouri, South Dakota, and soon they will become illegal in some other states. Several large companies have already announced that they will support their employees and pay for their travel expenses to the states where abortions will be allowed. The list of companies that supported the initiative included Disney, Netflix, Paramount, Warner Bros. Discovery, Sony, Condé Nast and other media companies.
For example, Netflix is ready to compensate up to 10 thousand dollars. Representative of Warner Bros. Discovery said the company "immediately expanded medical benefit options to cover the travel costs of employees and their family members who need to travel to access abortion and reproductive care."
Meta* also confirmed its intention to compensate for transportation costs, but added that such payments will be made exclusively within the framework of the law. As Variety notes, many states where abortions are prohibited may try to impose travel restrictions for this procedure.
In a memo from Google HR director Fiona Cicconi, the company confirmed that employees can apply for relocation "without justification," which allows those in states where abortions are prohibited by law to move to states where they are allowed.
Condé Nast CEO Roger Lynch said Friday that the company has "improved medical benefits in the U.S. to help insured employees and their dependents access reproductive care regardless of where they reside."
The insurance also included the Sundance Festival, which takes place in Utah, where a ban on abortions is expected to be introduced after a court decision.
The Center for Reproductive Rights previously estimated that if the Supreme Court overturns the Roe v. Wade decision, abortions will remain available only in twenty-five states and will probably be banned in twenty-five states and three overseas territories, including Alabama, Michigan, Ohio, Oklahoma, Pennsylvania, Texas, Utah, Wisconsin and Wyoming.
Many celebrities, including Taylor Swift, Michelle Obama, Billie Eilish, Patricia Arquette, Harry Styles, Mariah Carey, Lizzo and many others, also condemned the decision of the US Supreme Court. Some also shared personal stories. So, the daughter of the deceased actor Paul Walker, 23-year-old Meadow Walker, said that she had an abortion in 2020, and called the court's decision "a huge setback in history" and "a deep injustice towards women in the United States."
*Recognized as an extremist organization in the Russian Federation