A kiss with a girl on stage, a son on a backup dance — what did Madonna's performance in New York remember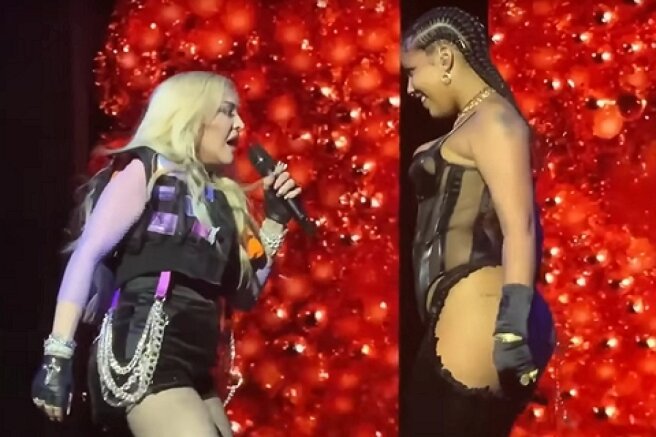 The other day Madonna gave a concert in New York, dedicated to the celebration of Pride Month. Recall that in June, events are held in many countries of the world designed to draw attention to the problems of the LGBT community.
Being a recognized defender of the rights of minorities, Madonna did not stand aside and staged a grandiose performance, inviting famous drag queens who took part in the show "Royal Races of the Russian Floor" to perform at it.
The greatest attention of the public was attracted by Madonna's performance with the Dominican rap artist Tokischa, who became famous on the web for her outrageous behavior. The artists performed a duet of the song Hang Up, ending the number with a kiss.
Fans of the pop diva immediately began to compare it with the legendary kiss of Madonna and Britney Spears at the MTV VMA ceremony in 2003, which the singers, by the way, recently repeated at the wedding of Britney and her lover Sam Asgari.
Videos also circulated on social networks depicting one of Madonna's sons, 16-year-old David Banda, who took the stage during the song Celebration and joined the dancers.
David did not make an official cuming-out, but many consider the video published by Madonna, where her son kisses another guy, to be such. It's also no secret that David often appears in public in dresses.