The network is discussing the romance of Johnny Depp and his lawyer Camilla Vasquez. The insider denied the rumors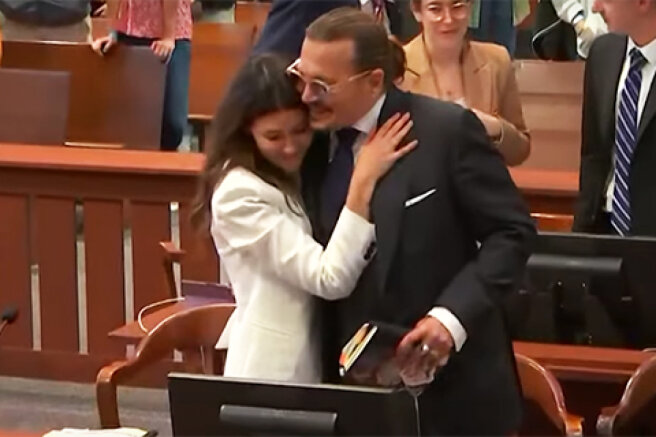 The trial between Johnny Depp and Amber Heard remains in the spotlight of the press and the public. However, Hollywood actors are no longer the main stars of the process. Everyone was impressed by Depp's lawyer Camilla Vasquez — she is being vigorously discussed online, and many users are even sure that she and Depp are having an affair.
Such thoughts of supporters of this version were prompted by the way Camilla and Johnny communicate at ease, without avoiding physical contact, for example, they hug tightly, and it seemed to others that Depp looks at his defender with tenderness. The network even has several blogs on Instagram* dedicated to the actor and his lawyer, where they are shippered (that is, attributed to a romantic relationship), posting similar photos.
However, there is no stronger evidence of such a connection yet. An insider told ET that the rumors are absolutely groundless.
The rumors are completely, 100%, unequivocally untrue,
— he declared.
Vasquez herself, however, walked away from a direct question from a reporter who was waiting for her at the courthouse and only smiled in response.
Vasquez, an employee of the California firm Brown Rudnick, found herself in the spotlight on Monday when she began cross-examining Amber Heard, and it became one of the most tense moments since the trial began six weeks ago. Then, among other things, it turned out that Heard did not transfer the $ 7 million received from Johnny Depp after the divorce to charity, as promised. The fact that she donated money, the actress has repeatedly stated earlier, including under oath.
The confidence with which Vasquez conducted the interrogation impressed many.
Camilla Vasquez is the unsurpassed star of the Depp trial. Her measured tone, sharp questions, full knowledge of facts and clear faith in her client are worthy of praise,
— lawyer Kathleen Zellner wrote on Twitter (Twitter is blocked in the Russian Federation).
At the same time, memes are already appearing on the web on how Vasquez manages to catch Hurd on contradictions.
*Instagram belongs to Meta, the company is recognized as extremist and banned in the Russian Federation