Sailing Regatta, carnival and reception: how Kate Middleton and Prince William's visit to the Bahamas is going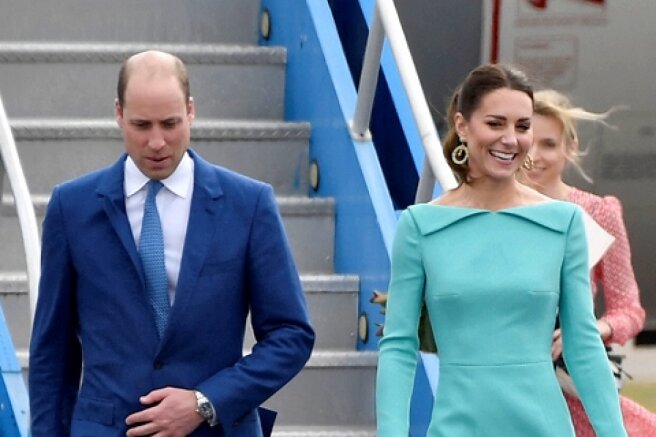 Prince William and Kate Middleton completed their tour of the Caribbean with a visit to the Bahamas — the royal couple arrived at the final destination of their week-long trip on March 24.
The Duchess of Cambridge stepped off the plane in an aquamarine dress by designer Emilia Wickstead, referring to the flag of the Bahamas. In addition to officials and military personnel, the couple was met by eight-year-old local resident Ania Moss, who handed the couple a bouquet of flowers.
Shortly after their arrival, Kate and William, despite the rainy weather, visited a local school and met with health workers who bravely fought the coronavirus pandemic, after which they went to the traditional Jankanu festival held in Nassau with music, dancing and colorful costumes.
The next day, the Duke and Duchess of Cambridge took part in a sailing regatta.
In the evening, a gala reception was held at the Baha Mar Resort Hotel, organized by the Governor-General of the Bahamas, Sir Cornelius Alvin Smith. Kate appeared on it in a turquoise satin dress by British designer Phillipa Lipley.
Kate and William are also scheduled to meet with representatives of the Coral Vita project, one of the winners of the Earthshot Prize established by Prince William.
The tour of the Duke and Duchess of Cambridge is timed to celebrate the platinum anniversary of the reign of Elizabeth II. However, from the very beginning it was fraught with scandals — in Belize and Jamaica, representatives of the British monarchy were met with protests against colonialism.