"Treated like pieces of meat": Playboy models told what happened in Hugh Hefner's famous mansion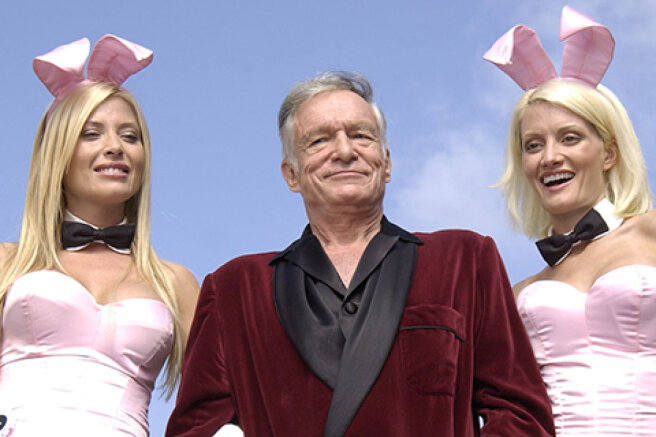 The documentary series "Secrets of Playboy", which will premiere on January 24, will reveal the dark side of the legendary empire of Hugh Hefner. The creators of the series collected the stories of Hefner's "bunnies", models and pornstars who lived in his mansion, participated in parties and enjoyed his location.
The first issue of Playboy with Marilyn Monroe on the cover came out when its founder was only 27. He was a huge success, and soon the magazine began to be published in seven million copies.
With the profit from sales, Hefner opened a network of VIP clubs "for his own". Each of its members was given a key to the mansion. At parties in these clubs, guests were served by models - "bunnies", with whom they were allowed to do anything. Many beauties aspired to get there, hoping that this would open their way to the screens. However, according to those who succeeded, in fact everything turned out to be not as beautiful as they thought.
It was like a cult. The women were courted, they were taught that they were part of this family,
- said the former director of promotion of Playmate Miki Garcia.
Many girls, however, did not get there of their own free will. Linda Lovelace, known for adult films from the 1970s, got into his mansion by accident. The girl was brought in a state of strong alcoholic intoxication from another party. The owner and guests took advantage of her helpless condition and raped her, and later forced her to have sexual intercourse with a dog.
Everyone was laughing when she got out of the limo. She was drunk and drugged. Suddenly, a German Shepherd dog appears out of nowhere. They forced her to have oral sex with a German Shepherd. Do you want to talk about debauchery? It was mean!
- said the former model PJ Masten.
Hefner himself was heavily addicted to illegal substances and, according to his valet, lived in his mansion as if disconnected from reality, and did not consider his "bunnies" as people, using them for entertainment. Hefner independently came up with scenarios for orgies, inventing more and more new entertainments each time, and took part in them himself.
Later, Hefner chose seven permanent girlfriends, with whom he spent time at the same time or in turn. They were all blonde. Among them was his "favorite", Holly Madison. When the model got to the Hefner mansion, she was just over 20 years old. The girl joined the "club" consciously, hoping to use her connections with Hefner in the future in order to make a career. He clearly set her apart from others, and Holly admitted that she took it for love.
The founder of Playboy, according to Holly, constantly forced her to compete with other "bunnies". For this, the girl went to a lot of plastic surgery, which she later regretted. Participating in orgies with other models, according to Holly, was very difficult: many of them hated each other. In the end, Madison realized that she meant no more to him than the others, and Hefner was just using her. Already on the first night she was forced to participate in an orgy, offering to take drugs "to make it easier."
Everything was mechanical, I just did the same thing as the other girls. It was very disgusting that Hef categorically refused to use condoms,
Holly admits.
The girls from Hefner's inner circle also failed to make the career they had hoped for. When he did not spend time with the girls, there was a curfew for them, there was a ban on communication with other men. Even red lipstick was banned, and when Holly decided to experiment with her hairstyle, Hefner was furious. Madison herself believes that she got into this story out of stupidity, but she was afraid to escape.
I knew I could run away, but I understood the consequences. It would be a whole mountain of revenge porn. Hugh often took pictures of us and showed these pictures to the guests. If he made them public, society would cease to consider us human. There could be no question of any career,
Holly said.
In the 70s, feminist activists made Hefner their main enemy. The Playboy founder was accused of "objectifying women." However, he himself was of a different opinion. Hefner considered himself "a fighter for freedom of speech and freedom of sexuality in the repressive post-war era."
He held his parties until his death, although in recent years he could no longer participate in them due to his advanced age. A year before his death, Hefner sold the famous mansion. He reserved the right to live there until his death, paying the owner about one million dollars for maintenance. The value of the estate was $ 100 million.
Hugh Hefner died in September 2017 at the age of 92.