Fans are sure that The Weeknd has confirmed an affair with Angelina Jolie in his new song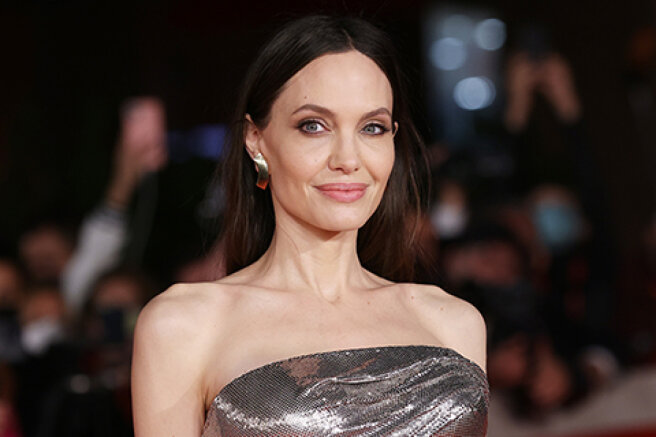 The other day, 31-year-old singer The Weeknd (real name — Abel Tesfaye) released a new album Dawn FM. After listening to him, many are now sure - the performer confirmed his affair with 46-year-old Angelina Jolie, rumors about which have been circulating for several months.
The song Here We Go... Again made music lovers believe in this. In it, according to the network, the musician not only hinted at a sexual relationship with Jolie, but also inserted a pair of pins to his former lovers - singer Selena Gomez and model Bella Hadid.
My new girlfriend is a movie star. I loved her right, made her scream like Neve Campbell (My new girl, she's a movie star. I loved her right. Make her scream like Neve Campbell),
Abel sings.
Me when #TheWeeknd said " baby girl she a movie star" : Angelina jolie is that u !!! pic.twitter.com/gbRjdMsh1W

— (@fati88kili) January 7, 2022
At the same time, in the song, The Weeknd notes that he is connected with this movie star not only by bed, but also by spiritual intimacy.
She laughs with me. I swear it cures my depressive thoughts. Because, baby, she's a movie star. I promised myself I'd never fall in love, but here we are again. (But I make her laugh. Swear it cures my depressing thoughts 'cause, baby girl, she's a movie star. I told myself that I'd never fall, but here we go again),
- so the lyrics of the song continue.
Many are sure that hints of an affair with Jolie are contained in other songs from the album, for example, in the tracks Starry Eyes and I Heard You're Married. In the text of the first track, Abel, referring to the lyrical heroine of the song, sings that she has not been with a man for a long time (and Jolie did not have official affairs after her divorce from Brad Pitt), and in the text of the second song, attentive listeners have already seen a reference just to the difficult divorce process of Angelina and Brad. The issue of custody of their common children has not yet been fully resolved.
It hurts me to think that I have to share you (It hurts to think I'm sharin' you),
- The Weeknd sings in this song.
Fans are sure that Abel added a couple of lines about his ex-girlfriends to the track Here We Go... Again. So, the song mentions a vacation on a yacht with a certain girl who thus wanted to arouse jealousy in her ex (many see this as a hint of Selena Gomez and Justin Bieber), and after sex with Abel fell in love with him.
Parallels with reality can be drawn when listening to another verse, where it is mentioned how a certain girl tried to exchange Abel for someone more famous, and eventually meets an ordinary guy. Here, according to listeners, The Weeknd sings about Bella Hadid, who is now dating art director Mark Kalman.
As for Abel and Angelina Jolie's romance, conversations about it began last summer. The actress and the musician were seen together several times at dinners. They themselves invariably tried to avoid direct comments to the press. Some believe that these were not romantic dates, but business negotiations - allegedly, Tesfaye wants to develop an acting career and hopes for Jolie's help. However, other information from insiders appeared in the press.
Both Angie and Abel tell people that they are just friends, but those who know them are sure that something romantic is going on,
- an insider exclusively told Us Weekly in September 2021, noting that the musician "lights up" when he is next to the actress and "reveres" her.