Salma Hayek, Lady Gaga, Jared Leto and others at the premiere of the film "House of Gucci" in London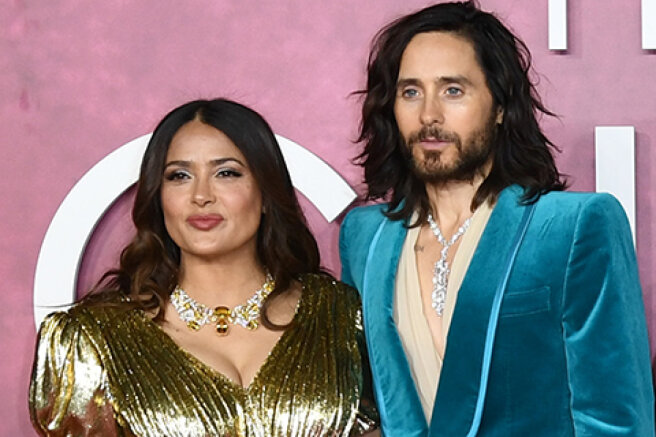 The long-awaited film "House of Gucci" has finally been released! The premiere of the film directed by Ridley Scott was held in London yesterday. Almost the entire main cast came to present the new film with their participation. Salma Hayek, Lady Gaga, Jared Leto, Adam Driver and others walked the red carpet.
Hayek's daughter Valentina Paloma Henri-Pinot did not keep her mother company this time, but the actress nevertheless did not remain without the support of her relatives. Together with her, her husband Francois Henri-Pinault and his 21-year-old daughter from his first marriage Mathilde Henri-Pinault flew to London. Salma gets along well with her husband's children from previous relationships.
Hayek chose a gold Gucci dress to go out. Both Lady Gaga and Jared Leto paid tribute to the famous Italian fashion house. The singer chose a purple outfit with a cape and a slit on the leg and complemented the look with black stockings and lace-up ankle boots and a large platform.
Jared put on a turquoise velvet suit, which he combined with white shoes with a small heel and a light blouse. The actor completed his look with a silver clutch in the shape of a heart, a necklace with stones and a large ring.
The plot of the film is based on the story of the relationship between the grandson of the founder of the fashion house Maurizio and his wife Patricia Reggiani. Their roles were played by Adam Driver and Lady Gaga.
The couple had been married for 12 years, and a few years after the divorce, Patricia ordered the murder of her ex-husband. The reason, however, was not so much jealousy (Maurizio left his wife for another woman) as finances. Maurizio could not cope with the family business and was eventually forced to sell the fashion house. Patricia Reggiani was sentenced to 29 years in prison for the murder of her ex-husband. She was released in 2016.
Lady Gaga, who played her, admitted that she got into the role so much that at some point she began to lose touch with reality and began to experience psychological problems. And in order to better transform into her heroine, she even dyed her hair a dark shade and, remembering her Italian roots, honed her pronunciation.
The film will be released in Russian on December 2.