Julia Peresild shares new photos from a family vacation in the Maldives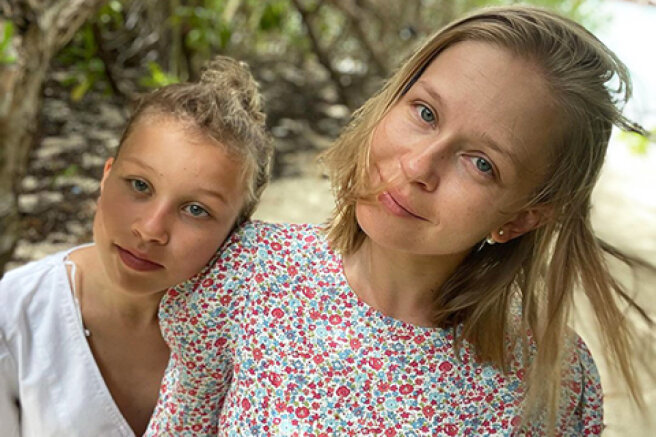 For more than a week, 37-year-old Julia Peresild and her family have been enjoying a vacation in the Maldives, where she went to recuperate after her return from space. Almost every day, the actress shares with her Instagram followers vivid impressions from her vacation. It was the first time that Peresild went to the resort favored by her star colleagues, so a lot of things here are new to her.
Today Julia has published a new batch of vacation photos, in which she poses with her daughters Anna and Maria and her parents. In the caption to them, Peresild told how the day before they were snorkeling with the whole family, and shared her emotions from this fascinating pastime:
Hurray! And the rain and the sun! And we finally decided to go snorkeling (this is swimming on the reefs with a mask)! It's just a delight! How beautiful! Thousands of species of fish — all colors and shades! The girls were afraid at first, I was also worried at first - sharks (of which we saw a lot here), stingrays, moray eels, etc. But no, it's not scary — it's terribly beautiful! And it's impossible to get out of the ocean, you just stick to this beauty! We swam with an instructor. He also told a bunch of everything and showed it. Tomorrow we'll go by ourselves!
The actress also admitted that very soon they will have to leave the island. According to Yulia, while she is sad to think about returning to her homeland. While there is an opportunity, Peresild enjoys the sun and feeds on the energy of the ocean. The mood of the actress and her loved ones cannot be spoiled even by inclement weather: the family got to the Maldives during the rainy season.
All the good things remain only in our memory and in photos. There will be a lot left from here! In the meantime, snatch the sun! We are friends with the ocean! Enjoying the summer rains! And we catch the wind,
- Julia told me.
A vacation in the Maldives inspired Peresild to new ideas. While she is gaining strength, and after returning to Moscow, she is preparing to start new projects and make her wildest fantasies a reality. Julia does not let go of thoughts about space: for example, the actress compared her feelings in the body during swimming with weightlessness. According to Peresild, in this state, maximum relaxation is achieved and breathing is good.
Recall that in early October, Yulia Peresild, together with film director Klim Shipenko, went on a unique space trip. They spent 12 days on the ISS, where all this time they were busy filming for the scientific and educational project "Challenge".