Demi Moore, Milla Jovovich with her daughter, Eva Longoria and other stars at the presentation in Los Angeles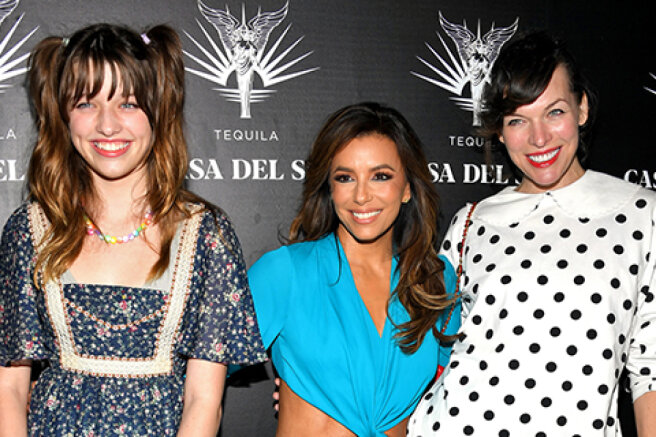 Yesterday, a presentation of the book by photographer Brian Bowen Drivebys took place in Los Angeles, which included pictures taken during his trip around the country on a vintage truck. His star friends came to support Brian on this day: Demi Moore, Eva Longoria, Milla Jovovich with her eldest daughter Eva, Ellen Pompeo, Julianne Hough, Rick Hilton with his son Barron and his wife Tessa and many others.
Demi Moore chose a white Fendi dress with black polka dots for the event. The Hollywood star complemented her stylish look with black boots and aviator glasses with transparent lenses.
A much more catchy image for the presentation was chosen by the star of "Desperate Housewives" Eva Longoria. It seemed that in her blue floor-length dress and with slits at the waist, the actress even confused the event with the red carpet at some star awards — Eva looked so bright against the background of the others.
Mother and daughter Milla Jovovich and Eva Anderson also attracted the attention of reporters. Firstly, because of the excellent mood in which they were, and secondly, because of the contrasting outfits in mood. Milla on this day, it seems, was inspired by the image of Disney's Minnie Mouse, while her daughter looked like a typical anime heroine.
By the way, recently 13-year-old Eva Anderson has been going out more and more often, and recently she began to do it even without her mother's accompaniment. The eldest daughter of the actress seriously intends to follow in her footsteps, and so far she has excellent prospects to conquer Hollywood. Last year, the girl received two roles in major film projects at once - Marvel's "Black Widow" and Disney's "Peter Pan and Wendy" - and is clearly not going to stop there.