Kylie Jenner was criticized because of a photo shoot with fake blood: "Some kind of Satanism"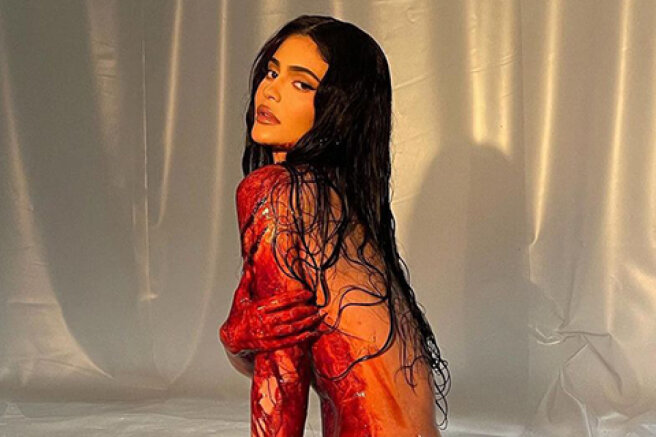 On the eve of Halloween, 24-year-old Kylie Jenner presented a new make-up collection of her brand Kylie Cosmetics, inspired by the cult horror film 1984 "A Nightmare on Elm Street". A few hours ago, the reality TV star announced on her Instagram the imminent release of a collection of photos in which she appeared completely naked and drenched in fake blood.
Fans did not appreciate Jenner's creativity and criticized her to the nines in the comments. Many noted that the pictures look frankly frightening, while others reminded Kylie that she absolutely does not have to undress every time to announce her new product. There were also those who generally rejected the idea of a new make-up line: in their opinion, it is strange to use as inspiration a film about the villain Freddy Krueger, who killed innocent teenagers, among whom there were many girls.
I don't like this idea at all! It looks like some kind of Satanism. Kylie, no, just no!
Girl, you're so talented and you don't appreciate yourself so much! You let others ruin your talent... These are very frightening pictures! You can do a lot better.
You should have done a collaboration with Jesus — that would be something to be proud of!
Why do you always have to show your body when you advertise something?
- subscribers expressed their bewilderment.
Kylie herself has not yet responded to critics. The star, who is now expecting her second child, thoroughly worked on the promo campaign of the new collection and threw a large-scale party in honor of the upcoming launch the day before. Jenner arranged a holiday in the spirit of "A nightmare on Elm Street" in her own home. Everything was drenched in fake blood, and guests were offered to try signature cocktails called "One, two, Freddy, will take you away" or "What sweet, fresh meat".
Kylie's entire family was present at the party, including her lover Travis Scott, their daughter Stormy, Kylie's sisters Kim and Khloe Kardashian, as well as their mom Kris Jenner.