Meghan Markle and Prince Harry performed at the Global Citizen Live concert in New York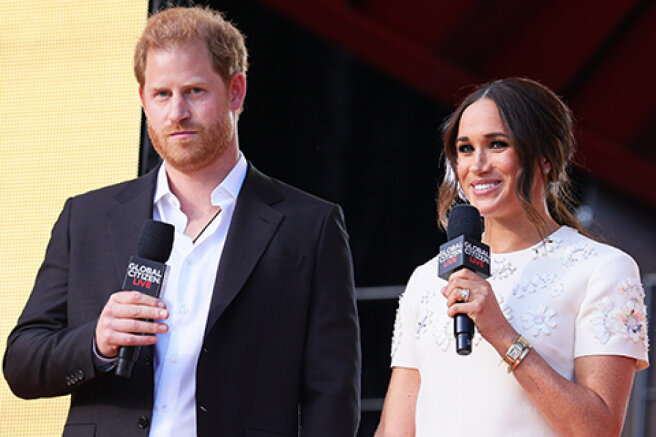 Yesterday, 40-year-old Meghan Markle and 37-year-old Prince Harry completed their short tour of New York, which lasted about a week. The final exit of the couple during this visit was a visit to the 24-hour event Global Citizen Live, which was held in Central Park.
Harry and Meghan became special guests of the event and called from the stage to put an end to the coronavirus pandemic and restore justice regarding vaccination in poor countries. Megan took to the stage in a white designer Valentino dress with a length above the knee, decorated with embroidery from large beads. The Duchess complemented the $ 4,500 outfit with black pumps and luxurious jewelry: Cartier earrings worth more than $ 16,000, a $ 12,000 watch and a bracelet worth almost $ 7,000 from the same jewelry brand.
Hello everyone It's so good to be back here with all of you! It seems that the pandemic has been going on for an eternity. We understand this perfectly well, but if everyone forgets about it, it will never end. Today, we can do a lot that will bring us closer to the end of this pandemic. That's why we're here,
Megan began her speech.
We are not only fighting the virus. It is also a battle with disinformation, bureaucracy, lack of transparency and accessibility. First of all, this is a human rights crisis,
Prince Harry continued his wife's inspiring speech.
In the continuation of their speech, the couple said that every person on the planet has the right to receive a vaccine against coronavirus. Meghan and Harry noticed that today billions of people from poor countries cannot get vaccinated. According to the couple, they have all the opportunities for the production of vaccines within their countries, but large pharmaceutical companies simply do not share their manufacturing technology with them.
My wife and I believe that the place where you were born should not determine your chances of survival,
Prince Harry declared from the stage.
Billie Eilish, Jennifer Lopez, Ed Sheeran, Elton John, Hugh Jackman and other stars of the first magnitude also performed at the event, where Meghan Markle and Prince Harry appeared yesterday. All of them called for an end to the coronavirus pandemic.
This is the end of the short visit of Meghan Markle and Prince Harry to New York. It is expected that in the near future the couple will return to California, where they are waiting for young children: two-year-old son Archie and three-month-old daughter Lilibet. Recall that the tour to New York was the first appearance of the couple in public after the birth of baby Lilibet.