Paris Hilton and her fiance Carter Reum are vacationing in Sardinia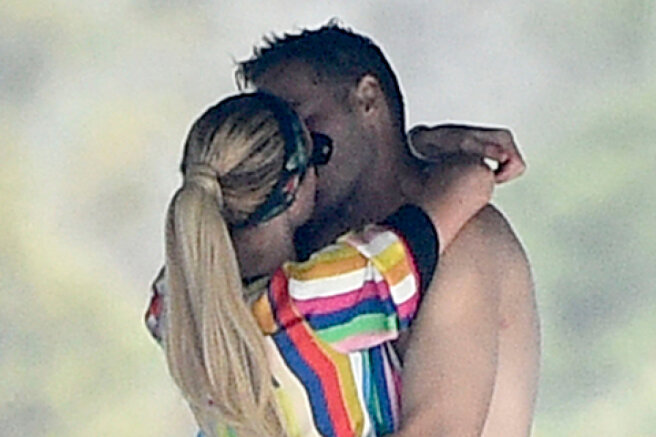 Despite the fact that her boyfriend Carter Reum made a marriage proposal to Paris Hilton back in February, and there was no wedding yet, the lovers spend time as if they were on their honeymoon. The bride and groom kiss, hug and show tenderness to each other in every possible way. For the last week, the couple has been vacationing on a luxury yacht, moving along the Mediterranean coast. At the beginning of the week, Paris and Carter were vacationing in Corsica, and now they are moored off the coast of Sardinia, where they were caught by the paparazzi.
40-year-old Paris and Carter swim, sunbathe and enjoy the wonderful weather and seascapes. Carter rides the waves on a board, and Paris does not get tired of changing outfits, showing off a lot of swimsuits and beach outfits taken with her on vacation.
In the photo taken in Sardinia, Paris is wearing a multi-colored silk robe. She preferred a swimsuit with a high waist and a bodice that emphasized the cleavage area. The same push-up recently misled journalists: a bra that visually increases the breast, prompted reporters to think that Paris is expecting a child.
These rumors appeared at the end of last month, but the star promptly denied them, saying that she was not going to have children before the wedding: Paris wants the wedding dress, which is already being sewn, to look perfect on her. However, the heiress of the hotel empire has already announced that she is preparing for the IVF procedure — she preferred this way to get pregnant so that she could choose the sex of the future babies-Paris dreams of twins.
Recall that Paris and Carter have been together since 2019. Carter Reum is a venture capital investment businessman.