Kitty Spencer and Michael Lewis are on their honeymoon in Italy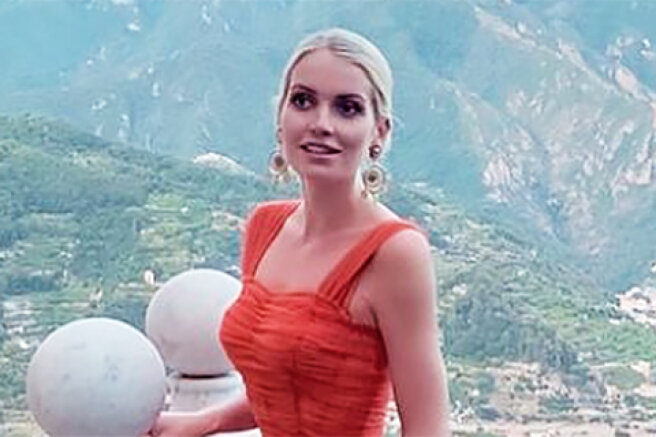 At the end of July, the 30-year-old niece of the late Princess Diana, Kitty Spencer, married 62-year-old South African billionaire Michael Lewis. Three days after the luxurious celebration, which took place in an old Italian palazzo in the town of Frascati near Rome, the socialite together with her new husband went on a honeymoon to the south of Italy.
The newlyweds stayed in a fashionable hotel in Positano on the Amalfi coast, the cost of one night in which reaches up to five thousand dollars per night. Last weekend, the couple had to briefly interrupt their honeymoon. First, Kitty went to a friend's wedding in the UK, and then dropped by in France. However, yesterday she returned to Italy to continue a romantic vacation with her lover.
Home, sweet home,
- that's how Spencer captioned the video in the story, shot at a villa in Positano.
Kitty spent the evening with her husband at one of the local restaurants, which boasts one Michelin star. On average, dinner at this institution, famous for its fine cuisine, a large wine list and gorgeous views of the sea and mountains, costs from $ 130 to $ 210 per person. Spencer was waiting for a small surprise in this restaurant — a postcard with words of gratitude and congratulations on the recent wedding from the owners of the institution.
Thank you for staying with us! Congratulate,
— it was written on the card.
Kitty went to dinner in an outfit from the friendly brand Dolce & Gabbana-it was the designers of this fashion house that Spencer entrusted with the creation of all five dresses for her wedding celebration. This time, the niece of Princess Diana chose an orange dress made of pressed fabric on the figure, which she complemented with sandals with sparkling stones.
Kitty Spencer started this morning again with beautiful views. At first, the socialite admired the view with a fantastic view of the sea and mountains, and then she went to breakfast with her husband. After that, the socialite together with her lover moved to the pool.
Kitty Spencer and Michael Lewis have been together for about three years. Before her wedding to a South African businessman, whose fortune is estimated at $ 100 million, the socialite converted to Judaism in order to be of the same faith with her lover. For Kitty, this marriage was the first, but Michael already has experience of family life. The millionaire has three adult children from his previous wife.