Madonna with her boyfriend and children flew to New York to celebrate her birthday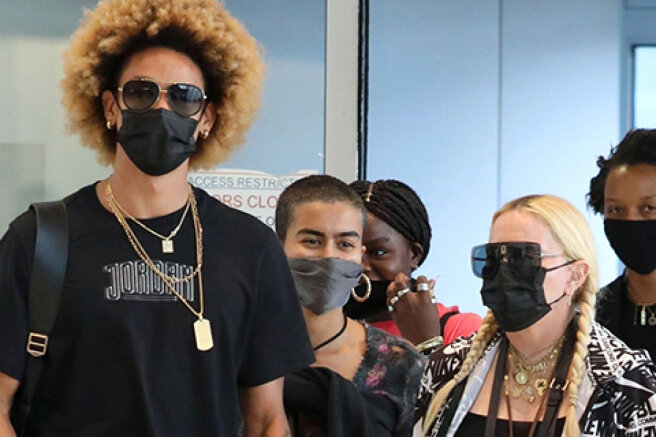 Today, the famous singer Madonna celebrates her 63rd birthday. And on the eve of her birthday, the star flew to New York — at the weekend she was photographed at John F. Kennedy Airport with her 27-year-old boyfriend Ahlamalik Williams and her daughters: 15-year-old Mercy James and eight-year-old Esther and Stella. The other children of the star, 24-year-old Lourdes, 21-year-old Rocco and 15-year-old David Banda, did not go on a family trip this time.
Only two of Madonna's six children are her biological children. She gave birth to Lourdes from her former lover, fitness trainer Carlos Leon, and son Rocco was born in her marriage to Guy Ricci. He and the director adopted David Banda together.
The adoption of all the children cost Madonna a lot of nerves. When she adopted David Banda, the boy's father was still alive at the time, but publicly supported the star's desire to take his son into his family. He understood that Madonna and Guy Ritchie would be able to provide David with a better life. However, Madonna recalled that the media wrote at the time that she allegedly abducted a boy from the family. Because of the attacks, she was very worried and often cried.
It wasn't easy for her to adopt Mercy James either. At that time, the singer had already broken up with Richie and was a single mother. The couple's divorce made Malawian officials doubt her parenting abilities. But Madonna still achieved her goal, saying nevertheless that she was treated sexist.
The father of Stella and Esther said a few years ago that he did not realize that his daughters were taken away from him forever.
I was told from the very beginning that Esther and Stella were going to a rich woman's house abroad, that she would give them a good education, and then return them to me to live with me and help my whole family. And now they tell me that they were adopted forever. It can't be true, I don't want it to be true. I am their father and I will always be their father,
— he declared.
Madonna with her daughters Cifundo, Stella and Esther
Madonna copes with the upbringing of children perfectly — she tries to spend as much free time with them as possible and provide them with everything they need. And Williams, with whom the star has been dating for more than three years, helps her in this and gets along well with them.