Kate Middleton and Prince William, Elizabeth II, Prince Charles and his wife Camilla congratulated Meghan Markle on her birthday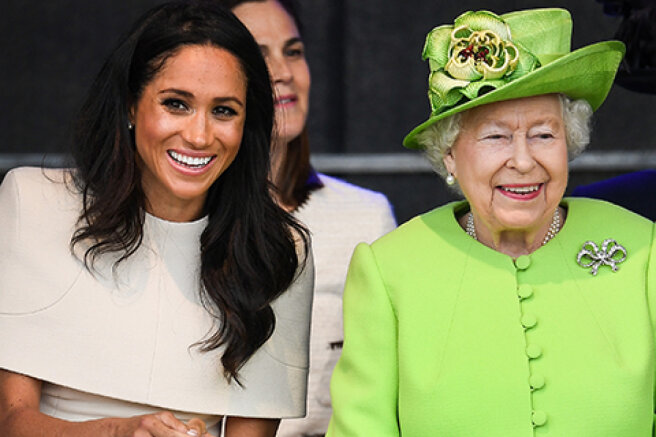 Today, the wife of 36-year-old Prince Harry, Meghan Markle, turns 40 years old. Despite the fact that the couple resigned their royal powers and quarreled with relatives, the British royal family remembers them and honors the family tradition of congratulating loved ones in public. So, Elizabeth II, Prince Charles and his wife the Duchess of Cornwall Camilla sent warm wishes to the birthday girl.
In the official account of Elizabeth II on Twitter, a post was published with three pictures of Meghan Markle and congratulations on her birthday.
Wishing The Duchess of Sussex a very Happy Birthday today! pic.twitter.com/xvrRH4sEwX

— The Royal Family (@RoyalFamily) August 4, 2021
I wish the Duchess of Sussex a happy birthday!
- the queen congratulated her.
In one picture, Meghan is depicted with Elizabeth II, in another with Prince Harry, in the third frame, she and her husband pose with their son Archie during a royal tour of South Africa.
Despite the difficult relationship with members of the royal family, Meghan always spoke warmly about her husband's grandmother and noted that the queen was very kind to her. Prince Harry is considered the favorite grandson of Elizabeth II, so she treats him and his family especially warmly. And even after the scandalous statements of the spouses and their move to the United States, the queen noted that the UK will always be their home.
Harry's father, with whom he is rumored to have a rather strained relationship, and his wife Camilla also congratulated the hero of the celebration on the holiday and wished her a happy birthday, posting a picture of her on Twitter.
Wishing The Duchess of Sussex a very happy 40th birthday. pic.twitter.com/dCncyhMLrQ

— The Prince of Wales and The Duchess of Cornwall (@ClarenceHouse) August 4, 2021
But Kate Middleton and Prince William did not dedicate a separate publication to Meghan. They congratulated her in the story on Instagram, which will disappear from the network after 24 hours. They say that the Duke of Cambridge still has not forgiven his brother, and he allegedly disliked his wife at all from the very beginning of their relationship.
We wish the Duchess of Sussex a happy fortieth birthday,
— they wrote.
Megan is expected to celebrate her anniversary with a party with close friends: according to rumors, she invited 65 guests to her house in Montecito. The Duchess will arrange a buffet at home, one of the main dishes of which will be a cake specially ordered by Prince Harry from her favorite pastry shop.