Heidi Klum and Tom Kaulitz celebrate their wedding anniversary on the island of Capri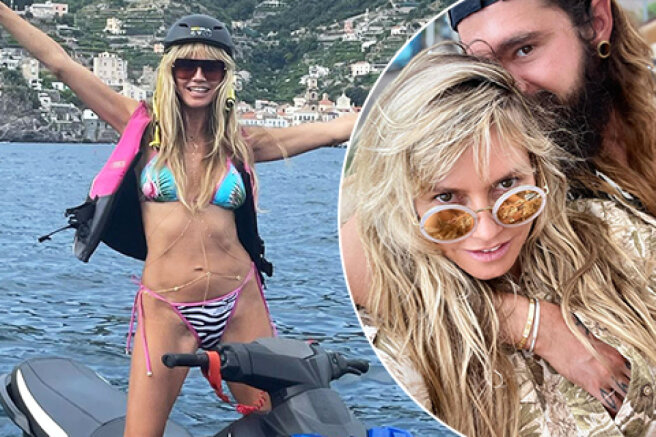 A week ago, 48-year-old Heidi Klum and her 31-year-old husband Tom Kaulitz arrived on the island of Capri. They were also accompanied by Tom's twin brother Bill and the German supermodel's four children-17-year-old Leni, 15-year-old Henry, 14-year-old Johan and 11-year-old Lou.
Last weekend, Heidi, Tom, Bill and Leni visited the annual UNICEF x Luisaviaroma charity gala dinner in Capri, and then decided to stay a little longer on the iconic island for their family. It was here two years ago that Heidi and Tom played a magnificent wedding, so they decided to celebrate the anniversary on the Italian coast.
A few hours ago, Heidi posted a photo from her wedding with Tom on her Instagram, which she had not shared with her followers before. She congratulated her husband on the anniversary and once again confessed her love for him. Later, the model posted a few more new photos with her lover: they are basking in bed over morning coffee.
Capri, August 3, 2021,
- Heidi signed the pictures, accompanying them with an emoji in the form of a large red heart.
Heidi, Tom, Bill and the children spend their days on the island very actively. During the day, they usually spend time on a yacht, ride jet skis, swim in the warm sea and sunbathe. In the evenings, a large company gets out to the city, where they walk along the narrow streets, enjoy fresh seafood in local cafes, admire the sights, buy postcards for memory and make many beautiful photos for Instagram.
Recall that the romance of Heidi and Tom developed rapidly: they met in 2018 and at the end of the same year announced their engagement. In their interviews, the couple has always stressed that they are not at all embarrassed by their 16-year age difference. The wedding of Klum and Kaulitz was played on a yacht, the rent of which cost 521 thousand pounds a week. Grace Kelly and Prince Rainier once hosted a similar celebration on it.
For the model, this marriage was the third, and for her lover — the second. Klum also has four children from a previous relationship: the eldest daughter, Leni, from businessman Flavio Briatore, as well as two sons and a daughter from singer Sila. Briatore is only the biological father of Leni and has never taken part in her upbringing. During his marriage to Heidi, Seal adopted a girl, who recently, by the way, followed in her mother's footsteps.