Madonna has published new photos with boyfriend Ahlamalik Williams and children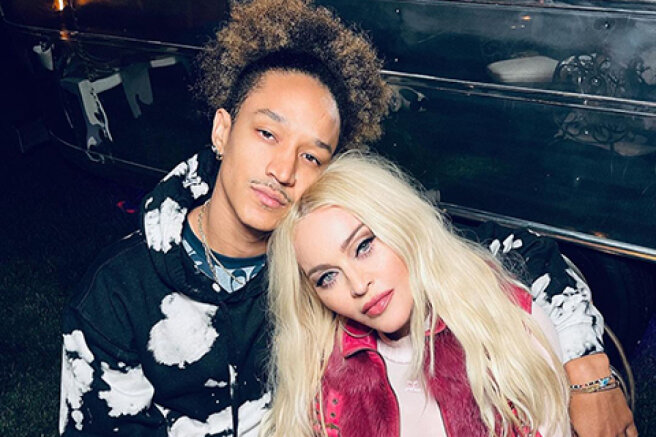 The other day, 62-year-old Madonna, along with her 27-year-old boyfriend Ahlamalik Williams and the children, threw a party in nature. The star and her family went to an impromptu picnic in a stylish, metal-trimmed trailer. All the participants of the party have carefully thought out their festive images in advance.
Madonna herself and her 15-year-old son David especially distinguished themselves. The pop diva chose ultra-short shorts in sequins for a family picnic, which she put on over tights in a fine mesh. The singer complemented the bold image in the style of the noughties with a cowboy hat and white pumps. David, in his shirt with multicolored streaks and pink pants, also stood out from the rest.
All day long, Madonna, along with her beloved Akhlamalik, 15-year-old David and Chifundo, as well as eight-year-old twins Esther and Stella, fried fish and hot dogs on the fire, took colorful photos with a huge inflatable flamingo, sang and danced to the guitar, played chess and just had fun.
Family barbecue,
- so Madonna signed in her Instagram pictures from the picnic.
In her Instagram, Madonna also shared a video taken during a family holiday in nature. In these shots, the pop diva snuggles up to her young boyfriend and gently kisses him on the lips, and also arranges incendiary dances right inside the trailer with the children.
In the comments, many subscribers noted that the years have no power over Madonna, and praised her for her ability to really relax. However, not everyone shares these delights: some believe that Madonna dresses too provocatively for her age, and condemn her behavior. At the same time, they have no doubt about the singer's exceptional talent and ask her to please them more often with new hits, and not with candid pictures on Instagram.