A photo of the luxurious wedding dress of Princess Diana's niece Kitty Spencer appeared on the network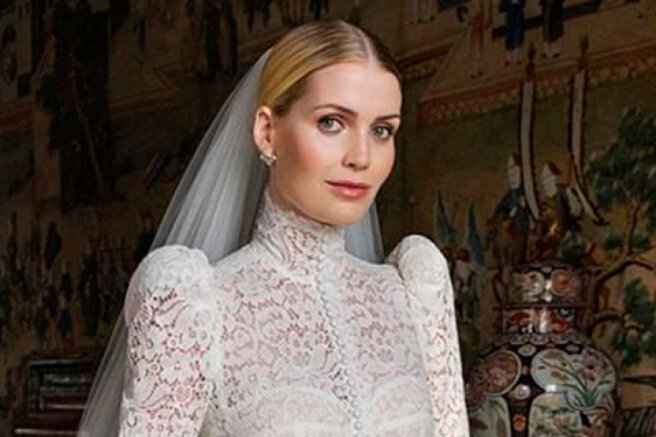 Photos of the wedding dress of Princess Diana's niece, 30-year-old Kitty Spencer, who recently married 62-year-old billionaire Michael Lewis, appeared on the network. Since Kitty is the ambassador of the world-famous brand Dolce & Gabbana, it was not difficult to guess who would sew a dress for her.
A photo of Kitty in a festive outfit appeared an hour ago on the official account of Dolce & Gabbana on instagram. The luxurious wedding dress is decorated with the finest lace, complemented by a long train and a veil. The high collar, voluminous shoulders and many small buttons along the corset and sleeves are inspired by the fashion of the Victorian era.
Other wedding dress options were also offered for Kitty. She could go to the altar in a chiffon pale blue dress embroidered with pink flowers, and in an emerald-colored velvet corset, complemented by a hyper-voluminous skirt, and in other outfits captured on video from the bride's fitting rooms. However, Kitty chose a traditional white outfit.
It is a great pleasure to watch how she wears our products, how she interprets them within the framework of her own style,
- the designers of the brand Domenico Dolce and Stefano Gabbana told about their collaboration with Kitty Spencer.
Domenico and Stefano sing the most important things in life — family, joy, beauty, color, love. Working with them is always a new experience, a unique opportunity to rediscover Italian culture, art, craft, and lifestyle. When I wear things created by them, I feel their passion and see the best version of myself in the mirror,
- Kitty shared her emotions about working together with designers.
Recall that since May 2018, Spencer has also been an ambassador of the jewelry house Bulgari — by the way, she and her fiance Michael Lewis bought wedding rings in a boutique of this brand.