Pippa Middleton and her husband James Matthews came out for the first time in a long time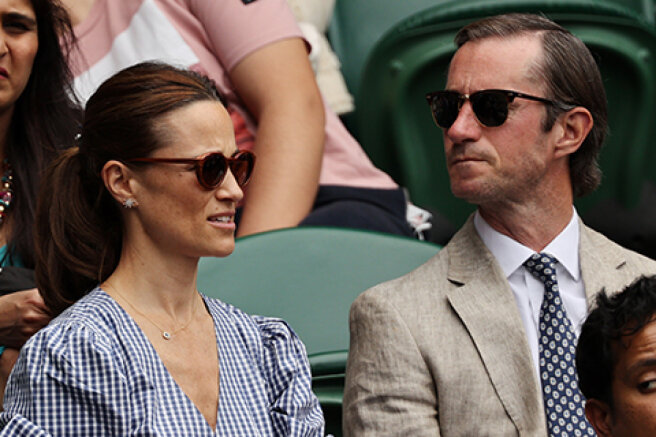 In the UK, the traditional Wimbledon tennis tournament is coming to an end. Yesterday, a passionate tennis fan, 37-year-old Pippa Middleton, among other spectators came to cheer for the athletes. Kate Middleton's younger sister attended the competition with her husband, 45-year-old James Matthews. They have not been published for a long time, first because of the lockdown, then because of the birth of a child. The pair attended the semi-final match-between Italian Matteo Berrettini and Pole Hubert Hurkac.
Pippa just four months ago gave birth to a daughter, who was named Grace Elizabeth. Despite the newborn baby at home, the young mother looked fresh and rested. For the exit, she chose a blue Ralph Lauren dress with puffy sleeves, a fitted silhouette and a shallow neckline. Pippa complemented the look with accessories — a simple necklace with a pendant and dark sunglasses. Her hair was pulled back into a low ponytail.
In between the exciting moments of the game, she chatted and laughed with her husband, who also chose an elegant summer outfit. James looked presentable and strict in a linen suit, a white shirt and a tie with a blue pattern.
Also present at Wimbledon on Friday were Pippa's parents, Kate Carol and Michael Middleton, who were sitting in the royal box. Among the members of the royal family who attended the tournament that day was the Queen's cousin, Prince Michael of Kent.
Recall that Pippa and James got married in 2017, the couple, in addition to a newborn daughter, has a three-year-old son, Arthur Michael William.