Gwen Stefani has published new pictures from the wedding with Blake Shelton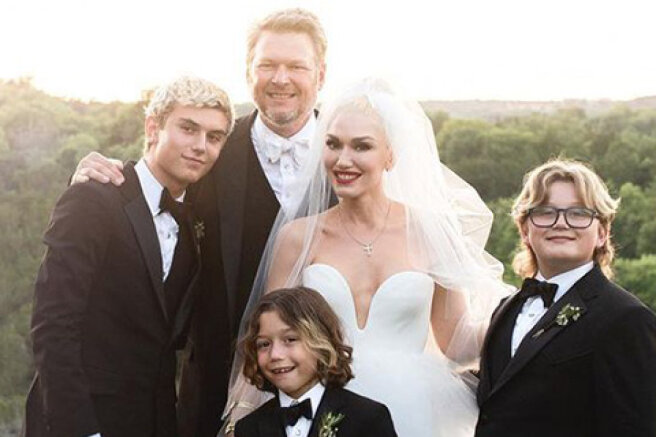 Last weekend, 51-year-old Gwen Stefani and 45-year-old Blake Shelton officially became husband and wife. A few days after the wedding, the singer continues to share the details of the celebration and publishes festive family photos.
Yesterday, she posted a photo with her husband and three sons from her marriage to Gavin Rossdale: 15-year-old Kingston, 12-year-old Zuma and seven-year-old Apollo.
Judging by the photo, her children were very happy for their mother — they looked happy and contented. All of Gwen's sons looked like real gentlemen and were dressed in classic black suits and white shirts with black butterflies.
The couple's wedding took place at the country musician's ranch in Oklahoma. Shelton specially built a chapel on its territory.
According to an insider, the couple specially arranged a celebration at home, as it was important for them that the holiday was held in a comfortable and calm atmosphere.
They deliberately made the wedding simple. They didn't want a circus. In the end, they just wanted to share this moment with their loved ones. Blake and Gwen are a very married couple, and that's what their wedding was about. The family was at the center of everything,
- the insider noted.
In total, about 40 guests attended the couple's wedding. And the couple trusted their friend and colleague on the show The Voice, Carson Daly, to lead it. It was on it that Gwen and Blake met six years ago.
One of the main decorations of the holiday was a luxurious five-tiered cake, which the newlyweds, as expected, cut together.