Florence Pugh told why people criticize her affair with the star of the TV series "Clinic" Zach Braff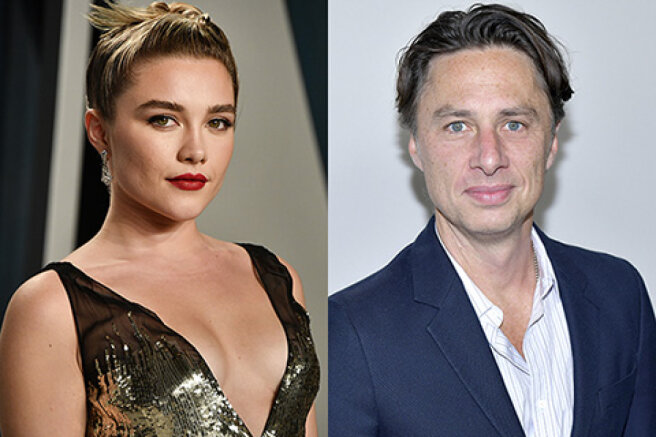 Despite the fact that Florence Pugh has been dating the star of the popular TV series "Clinic" Zach Braff for more than two years, the 25 — year-old actress continues to face critical, rude and unflattering comments from netizens who consider the age difference of the couple unacceptable-Braff is 21 years older than Pugh.
According to the British star, the public is concerned about her relationship with her 46-year-old boyfriend, because this is not what is expected of her. She told about this in an interview with The Sunday Times. She noted that her relationship annoys people because they would like to see her with someone like her colleague in the film "Little Women" Timothy Chalamet.
But this is my life. And I don't do anything to please people or turn it into a better headline or story. I also want to be a person!
Florence noted.
After the actress publicly congratulated her lover on Instagram last year, she faced haters who wrote her offensive and humiliating comments. Having made a statement on the social network, she said that she would not allow such a thing on her page, and was forced to turn off comments to the publication.
In an interview with the publication, the star said that it does not seem strange for her to expect people to comment on her pictures in a positive way.
It's so strange for me to go to someone else's page and shit there. It's not at all for me to go and mock for the sake of bullying. This is such a strange thing that we have come to terms with over the past 10 years on social networks. The fact is that people want Instagram to be a more pleasant place. They want to see good things. They want to be inspired and happy. I don't care if you don't like me. This is absolutely normal. In this case, do not subscribe to me,
"No," she said.
Florence Pugh and Zach Braff met on the set of the film "The Time It Takes to Get There" in 2019. They have been hiding their romance for a long time, and even now they prefer not to advertise their personal life. Neither Pugh nor Brough had ever been married before.