Kate Middleton and Prince William with Prince George supported the England national team at the European Football Championship match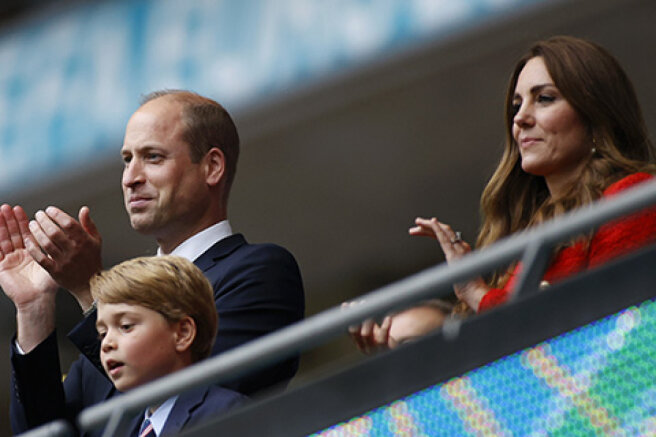 Yesterday, the match of the 1/8 final of the European Football Championship between the national teams of England and Germany took place at the London Wembley Stadium. The 39-year-old Dukes of Cambridge came to the stadium to support the national team, along with their eldest son, seven-year-old Prince George.
The royal family supported the English national team very emotionally, and when Raheem Sterling scored a goal against the German national team, Kate Middleton, Prince William, who is the president of the Football Association of England, and Prince George did not hide their emotions, applauding and rejoicing at the victory.
Kate Middleton chose a red Zara jacket and black trousers for the trip to the stadium, and George was dressed like a young gentleman — in a suit and a shirt with a tie. And George's tie was the same as his father's.
After the match, which, by the way, ended with a score of 2: 0, the fans of the England national team called Prince George the mascot of the team and noted that now all games with the participation of the national team should be held before George goes to bed.
It wasn't the first time George had attended a football match. Together with his parents and younger sister, he was at the national championship match between the teams of Aston Villa, for which Prince William is a fan, and Norwich City two years ago. But it was the first time he visited an event of such a scale as the European Championship.
In addition to the representatives of the royal family, other stars were present at the stadium, including David Beckham with his son Romeo, singer Ed Sheeran and Ellie Goulding with her husband Kaspar Jopling.
In the 1/4 final, the England team will meet with the Ukrainian national team. The match will take place on Saturday, July 3, in Rome.
The first news from Musthub was shared by blogger Svetusikislove.