Prince William and Kate Middleton attended the Commonwealth Games with their daughter. Princess Charlotte made her first public appearance without her brothers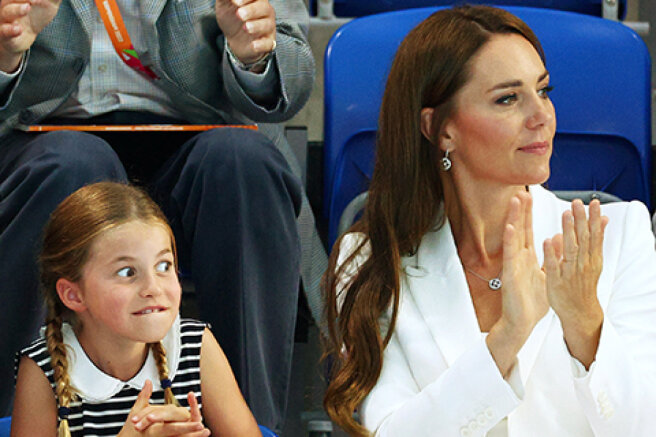 Prince William and Kate Middleton attended the Commonwealth Games swimming competition, a Commonwealth sports competition held every four years. They were accompanied by their daughter Charlotte - for the seven-year-old princess, this appearance was the first solo event: before that, Charlotte always appeared in public in the company of her brothers (Prince George is also already published with his parents without brothers and sisters).
For the sporting event, which took place in Birmingham, Kate chose a white Alexander McQueen pantsuit (in which she had already appeared in public during a Caribbean tour), Charlotte wore a striped dress with a white collar from Rachel Riley. Judging by the photographs, the girl followed the competition with excitement: the paparazzi filmed how she was talking animatedly with her parents, expressing approval, actively gesticulating, and making faces (all the children of the Dukes of Cambridge are famous for this, but the palm, according to the public, is still with Prince Louis , which has become the hero of memes more than once thanks to its facial expressions). After the competition, Charlotte met some of the athletes who participated in the Games.
Recently, Charlotte also found herself in the spotlight thanks to sports: together with her father, she recorded a video in support of the England women's football team on the eve of her match against the German team - the match took place on July 31 and ended with the victory of the English team.
At the stadium in Birmingham, in addition to the family of the Dukes of Cambridge, there were other members of the British royal family: Prince Edward with his wife, the Duchess of Wessex Sophie, and their children, Lady Louise Windsor and James, who bears the title of Viscount Severn.