Writer Tom Bower talks about Meghan Markle in his new book: "She thought the royal family was like Hollywood"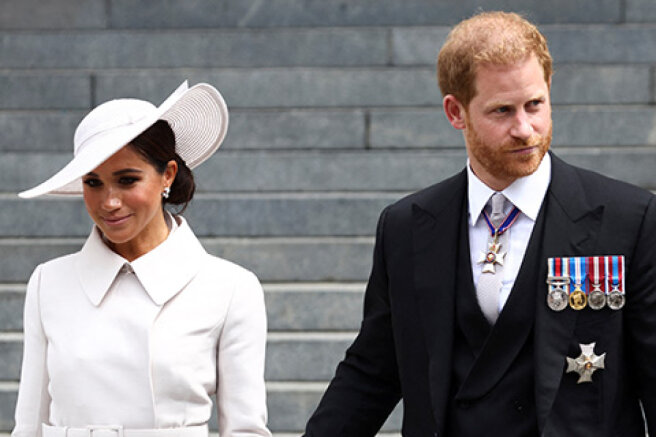 British writer and journalist Tom Bower has unveiled his new book, Revenge: Meghan, Harry and the War Between the Windsors, which details Meghan Markle, her relationship with Prince Harry, his family and friends. The details were published by a number of British media.
The author of the book admitted to reporters that he received most of the information from people who do not like Meghan Markle, since she forbade her loved ones to talk to him. However, Bauer notes that he did not include information in the book that cannot be verified, therefore he considers it "impartial".
The writer called Meghan Markle "explosive and unpredictable": according to him, the Duchess of Sussex "brought people to tears with her passive-aggressive tone." In addition, the duchess, according to the sources of the biographer, is very demanding.
The book also describes the moment of the quarrel between Meghan Markle and Kate Middleton: the wife of Prince Harry brought Middleton to tears before her wedding. The reason for this was the disagreement over dresses for bridesmaids, one of which was Princess Charlotte. In addition, they did not agree on whether bridesmaids should wear pantyhose.
Meghan Markle managed to get her way: she was supported by her best friend Jessica Mulroney, who was the mother of another bridesmaid. The last straw for Kate was Markle's unflattering comments about Princess Charlotte, whom she compared to Mulroney's daughter.
Megan herself mentioned this moment in an interview with Oprah Winfrey, stating that Kate that day "was upset about something, but admitted it and apologized."
Friends of Prince Harry also did not approve of his choice of life partner: according to Bauer, they said that he was "just crazy" if he decided to date Meghan. The biographer describes a party at Sandringham in 2016 attended by friends of Prince Harry. According to them, Meghan Markle's behavior left much to be desired: the duchess constantly made harsh remarks to his friends in response to jokes that she did not like. After the party, they said that Meghan Markle has no sense of humor, and expressed their fear that "Harry's world will never be her world."
Later, in 2017, Meghan accompanied Harry to his friend Tom Inskip's wedding party. According to the guests, Meghan "acted like a princess", was unhappy with the food and did not want to communicate with the prince's friends. Many of Harry's friends said that Meghan Markle changed him too much.
Bauer also stated in his book that Meghan Markle married Prince Harry in order to become famous: she thought that "the royal family would be like Hollywood." However, after it turned out that such a life also "means a lot of work and little reward," she stopped liking it. The writer noted that Megan's fame before the affair with Harry is exaggerated, and the Force Majeure series that brought her popularity was not so successful. It is wrong to say that she was a famous actress, she is not. She was a third-rate actress, because the series "Force Majeure" was watched by only a million people.
Despite what people say about Meghan Markle, according to Tom Bauer, she "succeeded in life": the author added that he admires her.
Meghan Markle and Prince Harry recently appeared in public. The couple visited the UN headquarters in New York, where Prince Harry addressed the General Assembly.