Meghan Markle will fight for women's rights in the US together with femme icon Gloria Steinem: "We have to put pressure on the White House"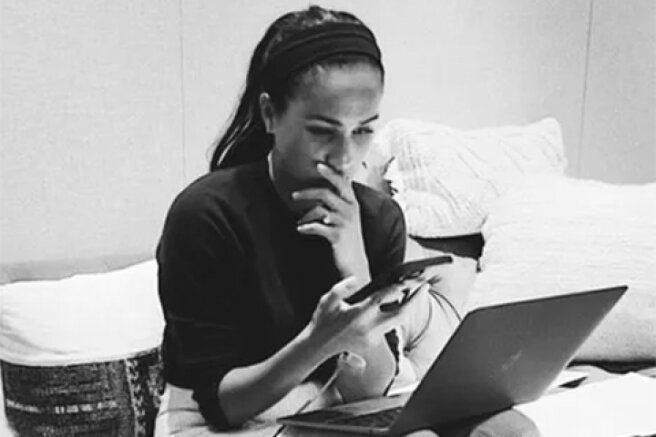 Meghan Markle gave an interview to American Vogue together with the famous feminist Gloria Steinem. Interesting quotes about the abortion ban, her political ambitions and Prince Harry were collected in our material.
Over the past few months, Meghan Markle has been working with Gloria Steinem on a plan to ratify the Equal Rights Amendment (ERA), which would directly extend to women the rights granted by the constitution to men. 88-year—old Steinem is a real femme icon of the USA, a writer and co-founder of the non-profit organization Women's Media Center. Speaking about working together, the Duchess of Sussex also commented on the sensational ban on abortion in the United States.
Women are already sharing stories about how their health is at risk. Women who have the means will go to have an abortion [in other states], and those who do not have them can try to do it themselves, putting themselves at great risk. It tells us that our physical safety doesn't matter, and as a result, we're not important. But women are important. And that's one of the reasons I called Gloria right away. Because she reminds me that when you have anger, you have to channel that energy into something that matters. That's what activism is,
Megan said.
We are the only democracy in the world that does not include women in its constitution. I think we should put up big billboards at every airport where people from other countries arrive, with the inscription: "Welcome to the only democracy in the world in which there are no women",
Gloria agreed with her.
Megan also expressed her willingness to fight with Gloria for the adoption of the Equal Rights Amendment. 
ERA has been ratified by the necessary number of states, and we must put pressure on the White House and Congress to adopt it,
Steinem said.
I am at home, I see what is happening in our country, and I feel a surge of energy and motivation. If this is the type of legislation that we need to push through, then this is the moment when I will definitely get down to business. Not only because we need it as women, it's what we need as people,
Megan said, suggesting that Steinem go to Washington together soon. Markle also urged women to "unite, not flounder."
Meghan added that the Supreme Court's annulment of the 1973 Roe v. Wade decision, which recognized abortion as a constitutional right, also angered her husband, Prince Harry. According to her, he takes the topic of women's rights very seriously. Megan believes that this is how all men should behave.
Men should be active now and in the future, because these are decisions that affect relationships, families and society as a whole. They may be targeting women, but the consequences affect us all. My husband and I have talked a lot about this in the last few days. He is also a feminist.
The wife of Prince Harry also noted that the ban on abortion is discrimination against black women.
These problems are systemic, interrelated and can be prevented. This decision affects national minorities most of all, and especially black women, because most of us do not have the same access to healthcare, economic opportunities, and mental health resources. This list can be continued. It's hard to underestimate what this decision will do to these communities,
Megan said.
Markle also suggested that banning abortions could be just the beginning of a whole series of violations of civil rights.
The ruling is a signal about the future of same-sex marriage, access to contraceptives and many basic privacy rights. This seems to be the tip of the iceberg and explains why people are so scared. We must channel this fear into action. We can start this November in the midterm elections,
— said the Duchess of Sussex.
Megan, who has two children, son Archie and daughter Lilibet, noted that it is important to leave women the right to free choice: to give birth or not to give birth.
No one should be forced to make a decision that they do not want to make, or that is unsafe, or puts their own lives at risk.
Megan said.