Prince Harry spoke about Meghan Markle's suicidal thoughts and her tantrum before the controversial interview with Oprah Winfrey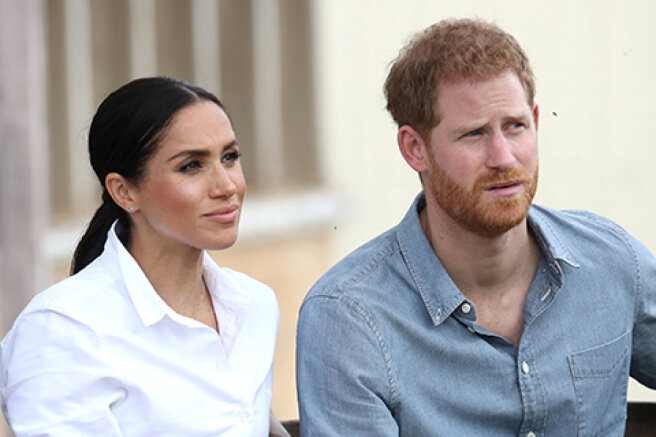 Today, the premiere of the documentary about mental health, "The Me You Don't See," produced by 36-year-old Prince Harry and 67-year-old TV host Oprah Winfrey, took place. In it, not only ordinary people told about their mental health problems, but also many celebrities, including Prince Harry.
In excerpts from the film, which can be found online, the Duke of Sussex also mentions his 39-year-old wife Meghan Markle. He said that a few days before the broadcast of their scandalous interview, his wife had a tantrum. Just then, the press reported that during the period of life in the palace, Meghan allegedly subjected his employees to bullying. According to the couple, this story has nothing to do with the truth.
I woke up in the middle of the night and saw Megan crying into her pillow. She didn't want to wake me up because I'm carrying too much. It was heartbreaking. I held her, we talked, and she cried and cried,
Harry remembered Meghan's reaction to the discredited information in the press.
The Duke also recalled a terrible episode from their life together, when his wife told him about her suicidal thoughts-this Meghan herself openly told in that very interview with Oprah. At that time, she was pregnant with her first child and could hardly bear the harassment arranged by the British media. Right before one of the charity events, Megan confessed to her husband that she was on the verge of suicide.
That night, Megan shared with me her thoughts on suicide and her thoughts on how she would like to kill herself. The most frightening thing was the clarity of her thoughts at that moment. She hadn't lost her mind, she wasn't crazy. She didn't self-medicate, whether it was alcohol or pills. She was completely sober. The only thing that stopped her from going through with it was that it would have been completely unfair to me after everything that had happened to my mother. It would be cruel to put me in a position where I would lose another beloved woman with our child under her heart,
Harry said.
The Duke admitted that he was still ashamed of his reaction to his wife's terrible confession. He said that he hugged her and tried to calm her down, and then they had to quickly pack up and go to a charity event that they simply could not miss:
We had to go out in front of the cameras and pretend that everything was fine. There was no way to say, " You know what, we're not going anywhere tonight." Because you can imagine the consequences that follow from such a story.
Harry also revealed that it was Meghan who prompted him to see a specialist to deal with his psychological problems, which began after the death of Princess Diana. At the very beginning of their relationship, Markle advised her lover to resort to psychological help, because she saw how much he really needed it.
At the very beginning of our relationship, we learned a lot. Megan once said: "I think you should see someone." It was her reaction to our latest argument. And at that moment, I unknowingly went back to 12-year-old Harry. During the second session my therapist said: "It looks like you're going back to your 12-year-old self." She did not call me a child, but simply expressed sympathy for what happened to me as a child and noted that I never worked through this problem,
Harry said.
The Duke noted that Meghan changed his life and admitted that if he had not listened to her once and did not go to therapy, he could have " forever lost the woman with whom he dreams of spending the rest of his days."