Mila Kunis and Ashton Kutcher talked about their house, which was built for five years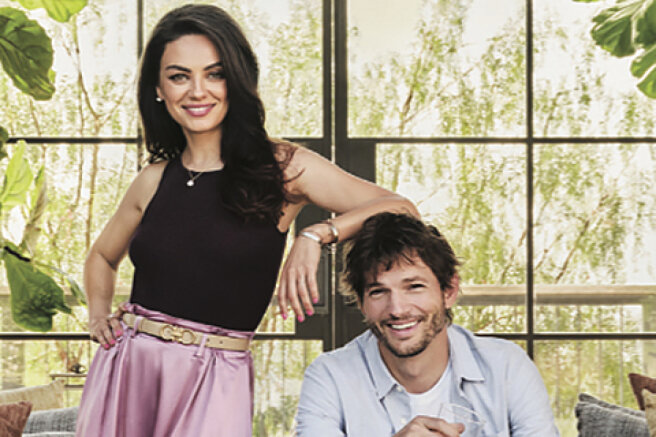 Mila Kunis, 37, and Ashton Kutcher, 43, have been together for more than nine years, and during that time they managed to get married and have two children. At the same time, all these important events in their lives took them less time than building their dream home.
This star couple told in the new issue of the magazine Architectural Digest, on the cover of which appeared. In the title photo, Mila and Ashton pose in the spacious living room of their newly completed mansion in Los Angeles with an area of 24 thousand square meters.
In an interview with the publication, the couple said that before starting construction, they first outlined their vision for the house on Pinterest — an online service for adding images online and sharing them with other users. It was there that they eventually found the architect who made their dream come true.
Kunis and Kutcher made the house, which took a long five years to create, in a rural style. It also has a guest house, entertainment area and barbecue facilities. Mila clarified that she and her husband had always dreamed of a cozy family home, not a huge estate.
We wanted the house to look like an old barn or barn. Like something that had already been there for decades, and then been converted into a house. But at the same time, it also had to look moderately modern and appropriate,
Catcher said.
Mila and Ashton were assisted by Vicki Charles of the international design firm Charles & Co. It was she who suggested to Kunis, who was waiting for her first child at that time, how best to combine fabrics, patterns and textures.
Mila was waiting for Wyatt when we started this adventure. We spent months researching materials and colors to find what we needed. Our conversations at that moment were not only about architecture, but also about the future of their family,
- Vicki Charles told about working with the star couple.
Over time, Mila and Ashton moved away from the original idea of making a house in a traditionally rural style and settled on something more modern. This is how the crystal chandelier with a length of three meters appeared in the living room, which greatly dilutes the atmosphere in the house.
We thought it was funny to hang this luxurious chandelier in the shed. This is very out of the general style," Mila shared.
Mila Kunis and Ashton Kutcher began dating in 2012, and two years later announced their engagement. In 2014, their daughter Wyatt was born, and a year later they officially tied the knot. In 2016, the star couple became parents for the second time: they had a son, Dimitri.