Mom can: the funniest and most touching pictures of the children of the Dukes of Cambridge by Kate Middleton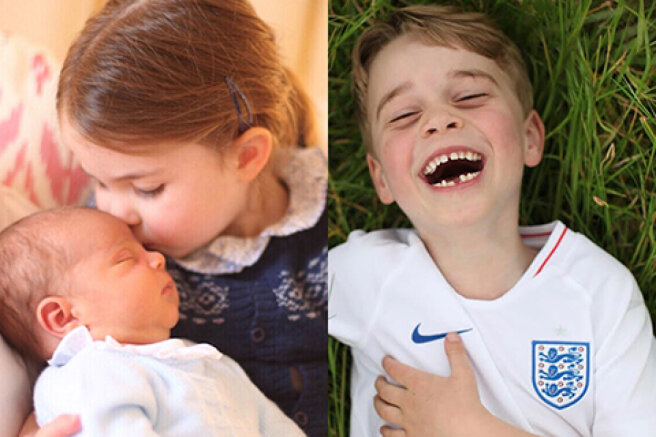 On May 2, the daughter of 39-year-old Kate Middleton and 38-year-old Prince William, Princess Charlotte, turned six years old. On this occasion, the Dukes of Cambridge traditionally shared a new portrait of the birthday girl. And its author once again became Kate Middleton. The Duchess of Cambridge, as you know, is not indifferent to the art of photography and often hones her skills on children: seven-year-old Prince George, six-year-old Princess Charlotte and three-year-old Prince Louis. Today we remember the cutest shots of Kate and William's children taken by their mother.
1. Prince George's Christmas Photo
Kate Middleton took an absolutely charming picture of her eldest son in the run-up to Christmas in 2014. In the photo, a one-and-a-half-year-old Prince George sits on the steps of Kensington Palace.
2. Brotherly love
The couple's children get along well. And their strong bond began when they were still toddlers. This picture of George and Charlotte was taken by their mother in May 2015, a few days after Charlotte was born. Prince George was less than two years old at the time, and even then he was simply fascinated by his sister.
3. Sisterly love
When Prince Louis was born, it was Princess Charlotte's turn to take an adorable photo with the youngest member of the family. This photo was taken by the Duchess of Cambridge in honor of her daughter's third birthday and just a little over a week after the birth of Louis.
4. First friends
In honor of the six-month anniversary of the birth of Princess Charlotte, Kate Middleton shared new pictures of her daughter. In the photo, the little princess is depicted with her soft toy-a dog, which brought her to a real delight.
5. Time for games
Six months later, the Duchess of Cambridge posted a new photo of her daughter on the occasion of her first birthday. In the photo, Charlotte is captured playing with a cart with cubes on the territory of the royal house.
6. Charming Charlotte
This photo was also taken in honor of the first birthday of Princess Charlotte. But then the birthday girl is no longer the carefree child who plays with a toy, but a small model who patiently poses for her mother.
7. Little lady
Like most of Kate's family photos, this one was taken at the home of the Dukes of Cambridge in Norfolk. Kate Middleton posted a picture in honor of her daughter's second birthday.
8. Prince George's first day of Kindergarten
In January 2016, Prince George went to kindergarten for the first time. He was 2.5 years old at the time. Of course, such an important moment Kate Middleton could not help but capture.
9. Princess Charlotte's first day of Kindergarten
And a new stage in the life of her daughter Kate Middleton could not help but note. Charlotte, unlike her older brother, who seemed somewhat focused, went to the garden on the first day with pleasure and looked very happy.
10. Prince Louis ' first photo shoot
This picture of the couple's youngest child was taken three days after his birth (Prince Louis was born on April 23, 2018). After publishing it, the Dukes of Cambridge thanked the public for their kind messages and congratulations on their son's birthday.
11. Prince Louis ' first birthday
Without departing from the family tradition, Kate Middleton arranged a photo shoot for her youngest son on his first birthday. The photo was taken at the couple's country estate in Anmer Hall. In the picture, Louis is depicted in dark blue trousers, despite the fact that usually royal children wear shorts up to 7-8 years old. But recently, Kate Middleton has often broken this protocol.
12. Outdoor games
In honor of her daughter's fourth birthday, Kate Middleton posted a picture of her, in which Princess Charlotte frolics in the courtyard of their home in Norfolk. And the public then noted that Charlotte is becoming more and more like her father Prince William.
13. Charlotte the Coquette
This photo, which was also taken on the occasion of Charlotte's fourth birthday, is the exact opposite of the previous one. It says that a girl can be both a carefree child, and a strict little lady and a real princess.
14. Hour of fun
George, like his sister, can be serious. But, like all children, he likes to play pranks and play. Everything is perfect in this picture: his radiant smile, missing teeth, and genuine joy. No wonder it was his mother who caught the moment.
15. The future King
This picture Kate Middleton shared on the last birthday of Prince George, when he turned six years old. And in this image — a green polo and striped trousers-he, despite his age, seems quite masculine. In a word, the future king.
16. Family Christmas Photo
As a rule, Kate Middleton always appears on family Christmas cards. But in 2019, she was on the other side of the camera and captured a picture of Prince William with his children.
17. Love of nature
At Kate Mee'sddleton also has her own favorite pictures. And this one, where Princess Charlotte sniffs a bell, is one of them.
18. Children's leprosy
On the two-year anniversary of Prince Louis, Kate Middleton shared a series of funny pictures in which he was soiled in paint. During the photo shoot, not only Louis got dirty, but also his mother. But it was not "documented".
19. Charlotte-Volunteer
In addition to the portrait in honor of the fifth birthday of Princess Charlotte, Kate Middleton shared a series of pictures in which her daughter tried herself as a volunteer. During the coronavirus pandemic, Charlotte helped deliver food to people who could not leave their homes during the lockdown period.
The Duke and Duchess of Cambridge are very pleased to share four new photographs of Princess Charlotte ahead of her fifth birthday tomorrow.The images were taken by The Duchess as the family helped to pack up and deliver food packages for isolated pensioners in the local area. pic.twitter.com/2scloP8BlF

— The Duke and Duchess of Cambridge (@KensingtonRoyal) May 1, 2020
20. Louis ' first day of kindergarten
This year, Prince Louis went to kindergarten for the first time. Like his older sister, he was very happy about this event and was happy to start a new stage in his life.