Megan Fox and Colson Baker celebrate their engagement in Italy on Lake Como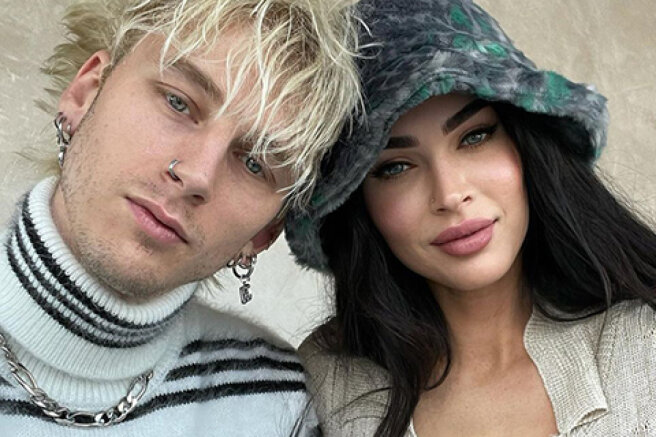 Megan Fox shared on Instagram footage from a romantic vacation with her future husband Colson Baker, better known as Machine Gun Kelly. The couple is spending time in Italy, where their wedding is supposed to take place.
A few days ago, the future newlyweds were in Milan, where the autumn-winter collection of the men's clothing line Dolce & Gabbana was shown. The show opened with a performance by Machine Gun Kelly, and then Baker walked the runway as a model.
After the show, Megan and Colson decided to stay in Italy and went to relax on the famous lake in the city of Como. In the footage, the actress poses in a beige top with a low neckline and matching trousers. She is protected from the cold by a blue floor-length fur coat with a leopard print and a fur panama hat. Her future husband chose an image in light colors for a walk — a fur bomber jacket, printed trousers and a white striped sweater.
The lovers strolled through the streets of the city and took a yacht ride on the lake. According to rumors, they want to get married there: Lake Como is a very popular place for wedding ceremonies.
The couple announced their engagement about a week ago. Making an offer to his beloved, Colson Baker presented her with an unusual ring of his own design.
This is a pure-bred Colombian emerald, which was cut in the shape of a tear immediately after mining. The concept of jewelry is that it is divided into two separate rings, which are held together by a magnet and form the shape of a heart. The lines on it are disguised spikes, and if Megan tries to remove the ring, it will hurt her,
- said the musician in an interview with Vogue.
Megan Fox backed up her consent with an unusual ritual:
I said yes, and then we drank each other's blood,
- the actress wrote on Instagram.
The romance of Megan Fox and Machine Gun Kelly became known in 2020. For Megan, this will be her second marriage: she was previously married to actor Brian Austin Green, with whom she has three sons.