Cristiano Ronaldo attended The Best FIFA Football Awards with his pregnant lover and eldest son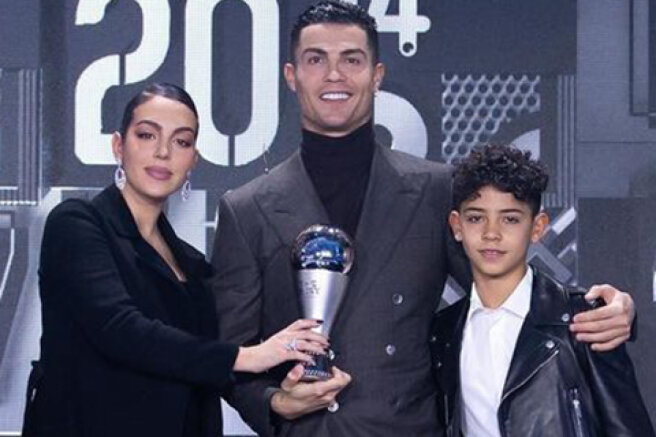 Footballer Cristiano Ronaldo received a special prize for the world record for goals for the national team at the award ceremony of The Best FIFA Football Awards. The event was held in Zurich (Switzerland) on January 17. The athlete arrived for the award accompanied by his pregnant lover, Georgina Rodriguez, and his eldest son, Cristiano Ronaldo Jr.
The footballer posted a family photo on Instagram with the caption:
Always with me.
For a social outing, Georgina chose an image in the style of total black. The model came in a strict black dress, over which she threw a black trench coat, and classic pumps completed her look. Cristiano Ronaldo Jr. came to support his father in a relaxed way: he chose a black leather jacket, jeans and bright yellow sneakers.
The imminent addition to their family became known at the end of last year. Ronaldo shared the happy news on his blog, and Georgina showed ultrasound pictures, which showed that she was pregnant with twins. Later, the future parents revealed the sex of the babies: they are waiting for a boy and a girl.
The footballer already has two sons and two daughters. The mother of the eldest son, Cristiano, is still unknown. Twins Mateo and Eva were born with the help of a surrogate mother, and daughter Alana became the first joint child of Ronaldo and Rodriguez.