Recently engaged Megan Fox and Colson Baker attended the show of the new Dolce & Gabbana collection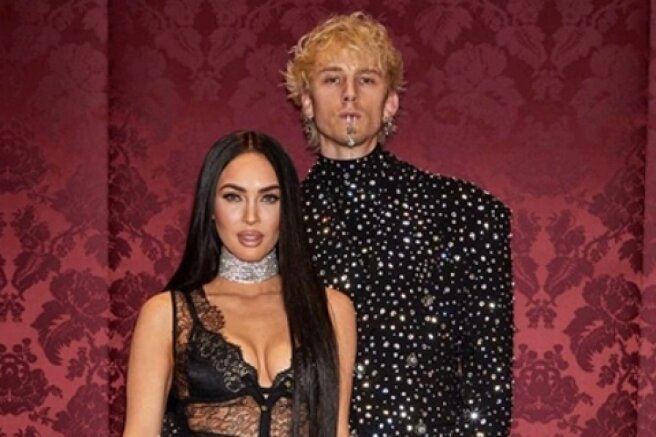 Megan Fox and Colson Baker, also known under the pseudonym Machine Gun Kelly, came out for the first time after the announcement of the engagement — on January 15, the couple attended the show of the autumn-winter collection of the men's clothing line Dolce & Gabbana in Milan.
On the red carpet, the actress and musician, as always, attracted a lot of attention. Megan appeared in front of the photographers in a translucent lace top and leather trousers decorated with lacing. The groom who accompanied her was wearing a double-breasted suit and a turtleneck with a stand-up collar from the latest collection of the Italian fashion house.
The show was opened by a musical performance by Machine Gun Kelly. In addition, Baker took part in the show as a model - he walked down the catwalk in a pearl-encrusted double-breasted suit with stud trim.
The fact that the movie star and the rock musician are going to get married, it became known earlier in January. Megan shared a video of the marriage proposal on her Instagram, also telling that after the traditional engagement ritual, she and Colson drank each other's blood. Fans of the couple were not shocked by this news - Baker had previously said that he wore an amulet with a drop of his beloved's blood around his neck.
Megan started dating Machine Gun Kelly in the early summer of 2020 and since then has repeatedly stated that her relationship with the musician is special. Prior to that, the actress was married to Brian Austin Green for 10 years, with whom she has three sons together.