Salma Hayek and Francois-Henri Pinault, Jeff Bezos and Lauren Sanchez, Haley Bieber and others at the LACMA Art+Film Gala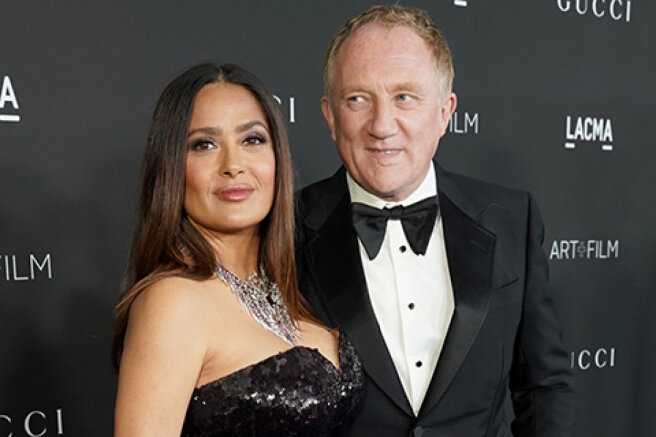 Last night in Los Angeles, the 10th anniversary gala evening of LACMA Art + Film was held, organized and patronized by Leonardo DiCaprio. He himself did not go out on the red carpet, deployed in the walls of the Museum of Modern Art, this evening, however, even without him, the star turnout was unprecedented for covid times — so many celebrities did not gather in one place, perhaps even at last year's Oscar.
At yesterday's gala evening, it was just right to arrange a battle of star couples. It would definitely clash Salma Hayek with her husband Francois-Henri Pinault, billionaire Jeff Bezos with his beloved Lauren Sanchez, Paris Hilton with her fiance Carter Reum, Benedict Cumberbatch with his wife Sophie Hunter, Kirsten Dunst and Jesse Plemons, as well as Serena Williams with her husband Alexis Ohanian.
Hailey Bieber, Miley Cyrus, Billie Eilish, Dakota Johnson, Eva Longoria, Sienna Miller, Elle Fanning, Suki Waterhouse and many others appeared alone on the LACMA Art+Film red carpet. Camila Morrone also came to the event alone: the patron of the evening and the beloved of the model Leonardo DiCaprio, according to tradition, did not go out with her to the journalists.
The opportunity to walk their bright outfits yesterday was also not missed by Jared Leto, outrageous rapper Lil Nas X, star brother and sister Jake and Maggie Gyllenhaal and many others. By the way, this year the event was sponsored by the fashion House Gucci: just for this reason, most of the fashion images of the stars were collected from the things of this world-famous brand, celebrating its 100th anniversary this year.