Kim Kardashian spent time with Pete Davidson again and went to dinner with him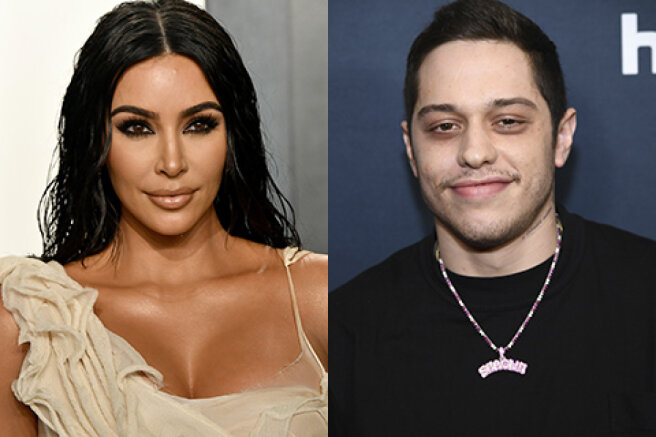 Last week, everyone was excited by a joint photo of 41-year-old Kim Kardashian and 27-year-old Pete Davidson, taken at an amusement park in California. In the photo, they held hands while riding a roller coaster. Rumors about a possible romance immediately appeared online, but then an insider told People that they were vacationing in the park with a large group of mutual friends.
However, now it has become known from another source that Kim and Pete have spent time together again. Kardashian, who is now in New York, found time to visit Davidson's hometown of Staten Island. There, the stars reportedly went to dinner together. According to TMZ, they went to the Italian restaurant Campania, and sources of the publication Page Six added that Davidson arranged for Kim to have dinner on the roof.
Pete can be very charming, and Kim loves attention,
A source told People, adding that Kardashian is "having fun and enjoying life" after her breakup with Kanye West, and also that there is "a certain chemistry" between her and Pete.
Recall that nothing connected them before — for the first time the couple hit the headlines after the release of an episode of Saturday Night Life with Kim. There, in one of the sketches, they performed the roles of Disney characters Jasmine and Aladdin and kissed.
Her attention is still focused on children and work, but we can say that she is ready for a new relationship. She left Kanye and thinks it's for the best,
- the insider said, adding that work on the divorce process of Kim and Kanye is still underway.
Recall that the couple's separation became known in February of this year. Kim and Kanye have four children together: eight-year-old North, three-year-old Chicago, five-year-old Saint and two-year-old Psalm. However, as you know, the couple has already managed to peacefully agree on joint custody.
It is very important for her that the children spend as much time with Kanye as possible. Kim is trying to support him. She is focused on co-parenting,
- a source previously told People.
Neither Pete nor Kim have commented on their time together yet, but Davidson has secured the status of a real Casanova — only recently he has had several high-profile affairs, including with Kate Beckinsale, Ariana Grande and Kaia Gerber. It is unknown how Kanye will take this news. Yesterday it became known that he was not enthusiastic about the ex-wife's trip to the amusement park with Davidson.