Meghan Markle read an excerpt from her book: video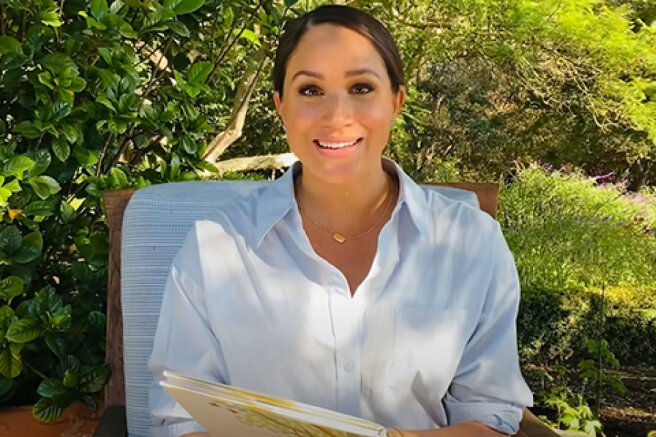 In June, Meghan Markle released her debut children's book called The Bench. Yesterday, the 40-year-old Duchess of Sussex read an excerpt from it for the YouTube show Bright Storytime Together, which aims to help parents cultivate a love of reading in children. The book tells about the relationship between father and son through the eyes of a mother.
I wrote a poem for my husband and our son Archie, and then turned it into a book so that you can enjoy it too,
Megan noted.
In the video, which, apparently, was recorded in the courtyard of the house of the Dukes of Sussex in Montecito, Megan appeared in a light blue shirt and blue jeans and complemented her image with jewelry: gold Jennifer Meyer and Cartier bracelets, a Lorraine Schwartz ring and a Cartier watch of the late Princess Diana. They were given to the Duchess by her husband Prince Harry in the early years of their relationship. According to Western media, the total cost of the Duchess's jewelry was about 450 thousand dollars.
Since Meghan Markle became part of the British royal family, she has often been criticized for the high cost of images. It is reported that during the first year of her life as a member of the royal family, Meghan spent from 300 to 500 thousand dollars on outfits.
The last time Megan was criticized was quite recently, when she wore $7,000 worth of clothes for a visit to a low-income school in New York's Harlem.
The first news from Musthub was shared by the blogger Capt25.