Chris Martin publicly confessed his love to Dakota Johnson at the concert: how the couple spends their time in London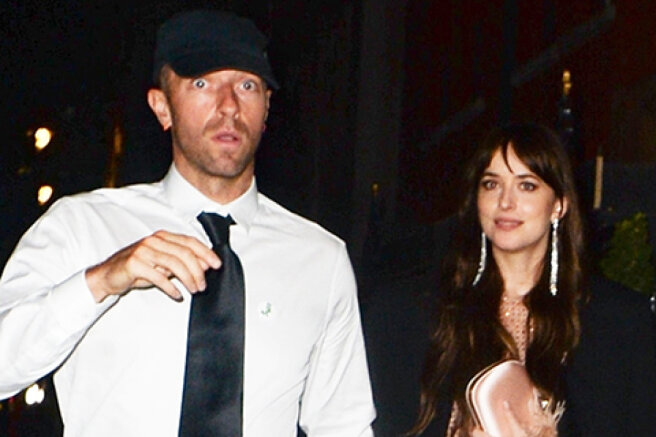 The other day, 32-year-old Dakota Johnson and her 44-year-old boyfriend Chris Martin got into the paparazzi lenses together for the first time in a long time. The pictures were taken late on Wednesday evening, immediately after the premiere of the film "The Missing Daughter" at the 65th London International Film Festival.
Dakota played one of the main roles in Maggie Gyllenhaal's debut film and, of course, appeared on the red carpet that day. The beloved actress supported her at the premiere, but did not come out to reporters with her. Only after the end of the event did the nimble paparazzi manage to remove the couple in front of the hotel entrance. Chris looked a little confused and held his beloved tightly by the hand, but she met the photographers quite warmly and with a smile.
On the eve of the network also appeared a touching video, which is now widely discussed by fans of the couple. In it, the leader of the Coldplay group during his London concert dedicated to the release of the new album, right from the stage confesses his love to his beloved.
This song is about my universe, and it's here today. Thank you, baby,
Chris said before the next number, pointing to the VIP box where Dakota was at that moment.
Dakota Johnson and Chris Martin have been together for about three years. Fans are convinced that their wedding is not far off, and they really have reason to think so. Back in December last year, rumors about the engagement of the actress and musician appeared in the press, after which they bought a luxurious mansion in Malibu together, which they moved to last winter.
By the way, the couple's relationship has not always been smooth. In 2019, they briefly parted, but quickly got back together. According to rumors, Martin's ex-wife and the mother of his two children Gwyneth Paltrow then played a role in the couple's reunion. Insiders claim that it was Gwyneth who convinced Chris that Dakota was the perfect match for him.
Dakota and Chris generally maintain very warm relations with Gwyneth Paltrow and her current husband Brad Falchak. They see each other quite often and spend family holidays together. Johnson also communicates well with Chris' children from a previous marriage: the actress can often be seen on joint walks with teenagers.