Selma Blair presented a documentary about her struggle with multiple sclerosis: "It means a lot to me"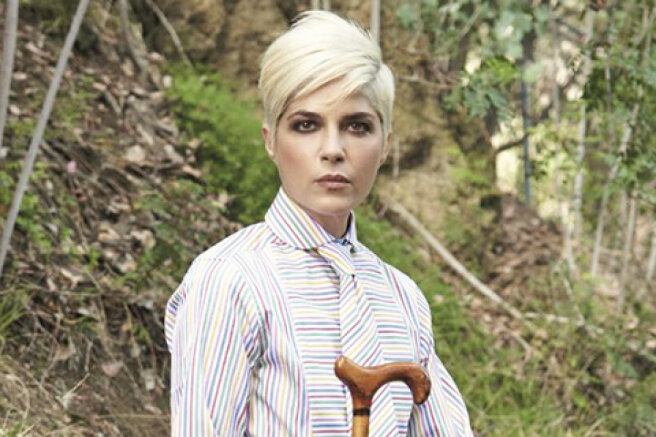 49-year-old Selma Blair presented a documentary about her illness called Introducing, Selma Blair, directed by Rachel Flute. In the film, Selma told about the emotions she felt when she first heard from doctors her terrible diagnosis - multiple sclerosis, as well as the emotional and physical suffering she experienced on the way to remission.
At the presentation of the film, which took place last Saturday in the Hamptons, Selma could not hold back tears when the audience gave her a standing ovation after the film. Later, the star of the movie "Violent Games" explained that such an emotional reaction is also related to her illness.
A minute ago I didn't feel as incredible as I do now. I was pretty harsh, so thank you. Due to the disease, I also have pseudobulbar syndrome (it is characterized by uncontrollable bouts of crying or laughing. - Ed.), so I can't stop crying. But this reaction is better than its alternative. Other things that happen with this disorder are really nasty, so tears are better. I wish I could be more collected in front of a crowd. It means a lot to me,
Blair addressed the guests gathered at the premiere.
One of the key figures in the documentary was Selma's mother Molly Cook. She passed away at the age of 82 last May, however, due to restrictions related to the coronavirus pandemic, Blair was unable to attend her funeral. At the premiere, Selma admitted that this is her first long-distance trip after the outbreak of the pandemic, and told what emotions she feels about it:
I am so happy to be among people again. I realized that my trip to the Hamptons was my first time out of the house since the beginning of the coronavirus pandemic. I couldn't even go to my homeland to bury my mother. I understand how touching it is to just go out for coffee for the first time and visit your favorite horse.
Recall that Selma Blair publicly spoke about her diagnosis in 2018. Since that moment, the actress has undergone several courses of treatment, and in August of this year she announced that she finally went into remission. Blair considers her ten-year-old son Arthur to be the main motivation for treatment.
I have an excellent prognosis. Remission has set in. The stem cell treatment worked. It took about a year, but now the inflammation has really decreased—" Blair said.