"For this money, you can feed families": the network criticizes the luxury image of Meghan Markle during a visit to Harlem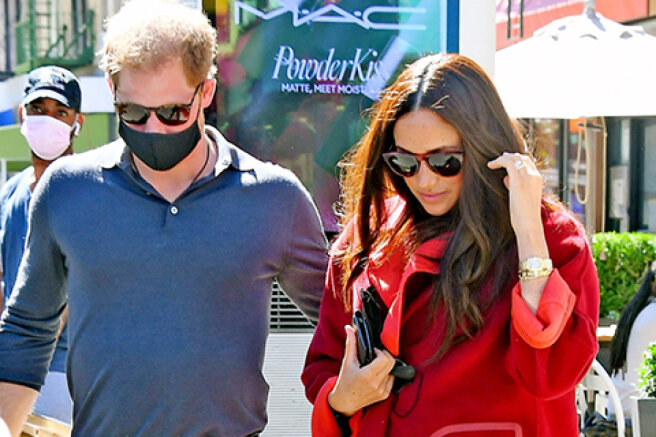 The visit of 40-year-old Meghan Markle and 37-year-old Prince Harry to New York was one of the most discussed events of the past week. The live appearance of the Duke and Duchess of Sussex in public was almost a flashback to the times of their royal tours, when Meghan and Harry had not yet resigned their official powers. In a few days, the couple took part in many events, so the public had something to discuss. And one visit of the couple caused a very violent reaction in social networks. It's about the arrival of Meghan and Harry in Harlem and a meeting with local schoolchildren.
The fact is that in public in this rather poor area of New York, Markle appeared in a Loro Piana cashmere coat worth $ 5,840 and trousers of the same brand for $ 1,685. And the total cost of Megan's jewelry was about 387 thousand dollars (of course, this included jewelry that the Duchess always wears, for example, her engagement ring, whose value is estimated at 350 thousand dollars, and a Cartier watch worth 23 thousand dollars).
Many netizens were outraged by Megan's fashion choice for a trip to Harlem, because Loro Piana is one of the most luxurious and expensive brands that are preferred in respectable millionaire circles. In addition, it was almost 22 degrees outside that day and there was definitely no obvious need for a warm cashmere coat. It is worth noting that the vast majority of children with whom Megan met receive free lunches at school, since their families are considered poor.
Unbelievable! For this money, you can feed dozens of families in that area!
Is she still considered an aristocrat?
- wrote Twitter users.
In some publications, the image of Meghan was compared to the image of Michelle Obama at the inauguration ceremony of US President Joe Biden. Recall that then the former first lady of the United States also appeared in a coat and trousers of a similar wine shade. However, her fashion choice was then praised, because Michelle supported the young black American designer Sergio Hudson.
So netizens did not appreciate this comparison either.
Michelle looks great. But Meghan" look at me " Markle-not really,
- one of the commentators wrote.
However, someone liked such a "repeat".
She's cosplaying Michelle's image at the inauguration, and I'm here to say that it's flawless,
- one of the users of the social network expressed his opinion.
While visiting the school, Megan read to the students her children's book "The Bench", which she released this year. After that, she willingly posed for photos with schoolchildren.