Sharon Stone, Orlando Bloom, Prince Albert II and others at the gala evening in Monaco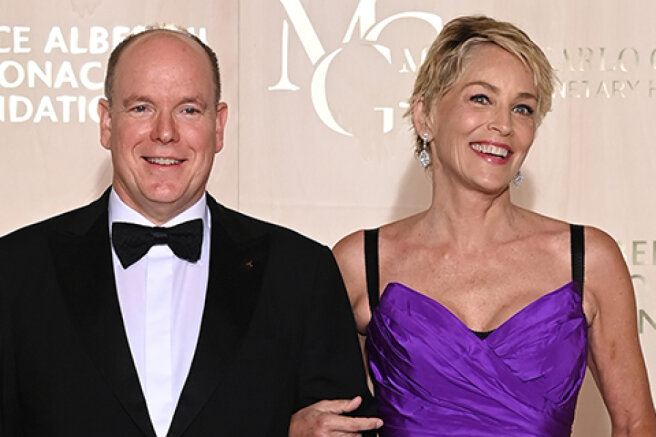 Yesterday, the annual charity event organized by the Prince Albert II Foundation of Monaco took place at the Princely Palace of Monaco. The gala evening traditionally gathered a large number of philanthropists from among the stars who united to raise funds for the benefit of the health of the planet.
The event was attended by Sharon Stone, among other celebrities. The Hollywood star appeared on the red carpet in a lilac dress with a long train. The actress attracted the attention of journalists not only with a bright outfit, but also with a dazzling smile, which infected everyone around. This is Stone's first appearance in public since the death of her 11-month-old nephew River: the baby died in August from an unknown disease, as a result of which his organs completely failed. Atkris was grieving over the death of the boy, but at the event she did not transfer her personal tragedy to others.
Orlando Bloom was also among the guests of the gala evening. He attended the event without his beloved Katy Perry, with whom he is usually inseparable. However, Katie, apparently, could not accompany Orlando, because she is busy not only with work projects in America, but also taking care of her little daughter Daisy.
Prince Albert II of Monaco also appeared at the event without his wife Princess Charlene, which once again fueled rumors about problems in their marriage. Charlene is still in the Southern Harp, where she has spent the last few months. In South Africa, the princess caught a severe ENT infection and underwent several operations, so doctors still forbid her long-distance flights. She plans to return to Monaco before October. By the way, many doubt that the real reason for the separation of the couple is precisely Charlene's illness: according to some netizens, in fact, Charlene and the Prince of Monaco are in different countries, because their marriage is bursting at the seams. However, Albert II himself denies these speculations.
Yesterday's gala evening in Monaco was also attended by Melanie Laurent, Isabel Fontana, Gaspard Ulliel and many others.