The boy from the cover of the album Nevermind by the band Nirvana sued them for "child pornography"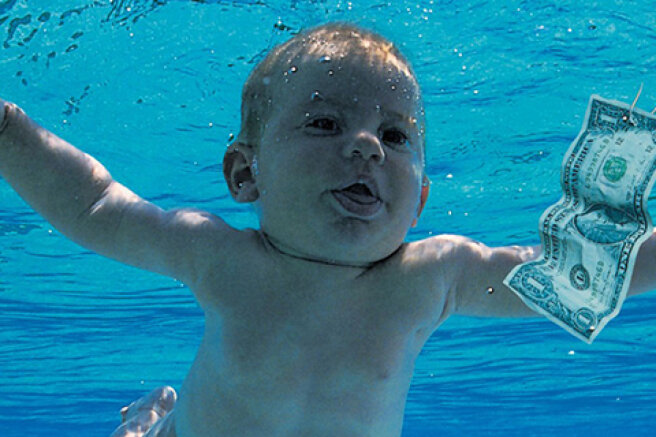 In 1991, the cult band Nirvana presented their second album — Nevermind, which eventually turned out to be the most commercially successful in the history of the band.
The cover of the record was a photo of a naked baby Spencer Elden in the pool and a dollar bill put on a hook, which he reaches for.
After 30 years, the hero of the legendary cover decided to file a lawsuit against the band members, including drummer Dave Grohl and bass guitarist Kist Novoselic, record companies and other team personnel, for distributing child pornography. The list also includes the widow of Kurt Cobain (the vocalist of the band, who committed suicide in 1994) Courtney Love, who now manages his estate.
In his statement, 30-year-old Elden noted that they sold his image for profit and caused him suffering. He also said that because of this, he will continue to suffer all his life. In the lawsuit, he also claims that his parents never received money for this image, not counting $ 200 per day of shooting.
It is worth saying that the image of a baby swimming for a dollar bill was a satire on capitalism. However, Spencer Elden's lawyer offers a different interpretation of the picture: he noted that the inclusion of a bill in the frame makes the baby look like a sex worker.
The defendants intentionally sold a child pornographic picture of Spencer for commercial purposes and used his image, which is of a shocking nature, to promote themselves and their music at his expense. The defendants used child pornography featuring Spencer as an important element of a record promotion scheme that is usually used in the music industry to attract attention, where children were depicted on the covers in a sexually provocative manner in order to gain fame, increase sales and attract the attention of the media and critics,
- the lawsuit says.
Spencer Elden is asking for at least $ 150,000 from each of the defendants (and a total of 17 people were included in this list).
It is worth adding that Elden has repeatedly recreated the legendary picture on the occasion of different anniversaries of the album. In most interviews, he expressed mixed feelings about the fact that he became famous thanks to this cover. But until now, he hadn't called it pornographic.
The first news from Musthub was shared by the blogger njunjunju.