Lizzo responded to haters criticizing her weight: "Fatshaming and racism are offensive"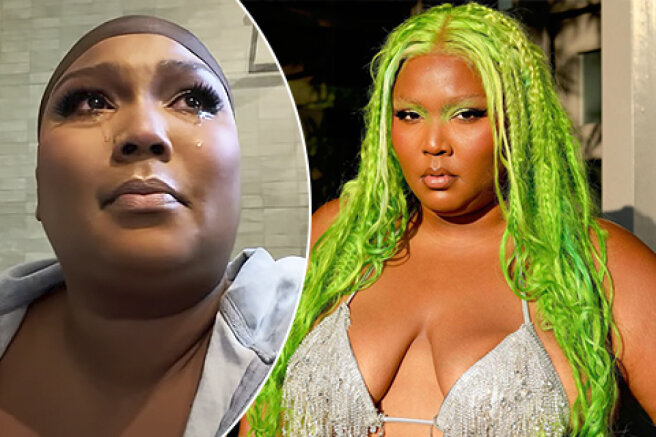 From the outside, it seems that the 33-year-old Grammy winner Lizzo is completely independent of public opinion. In social networks and her work, the singer openly stands for body positivity, and also regularly proudly posts pictures in bikinis on her microblog, in which she demonstrates her curvy forms.
However, the comments of Internet users under Lizzo's latest music video for the song Rumors, performed in a duet with Cardi B, really touched the artist. Haters literally attacked the star with criticism of her figure and racist attacks in her direction — they discussed these topics much more actively than the singer's success in her work.
Unable to withstand such a wave of negativity, the other day Lizzo went live on her Instagram. Speaking about the reaction of Internet users to her new job, the rap artist could not hold back tears. She stressed that she worked very hard before the release of the new song, but the joy of the long-awaited release was eventually overshadowed by the reaction of the haters.
I worked three or four days a week. I spent 12 hours a day on promotions, interviews, and work at the studio. She suffered from a toothache, but still continued to record at the studio and simultaneously shoot a documentary. I put so much energy of love into this world, but sometimes it seems to me that he does not love me at all in return. I feel negative. People say such shit about me that it just doesn't make any sense. I am insulted for the fullness and color of my skin — and this is really insulting. Okay, if you don't like my music or the song Rumors. But many people don't like me just because of the way I look,
Lizzo shared.
The singer also added that black women mostly face such negativity. According to the artist, many people begin to feel hatred for such people, simply because they do not fit into generally accepted standards.
This is not cool! All my creativity is aimed at helping big black women in the future. They will simply be able to live their lives without being subjected to careful consideration under a magnifying glass and fitting into some framework. I don't have time for your negativity, your inner self-hatred, which you project on me with your racist attacks and fatshaming,
Lizzo summed up.
Lizzo's message was also supported by Cardi B, with whom they recently presented the song Rumors. She asked to stop talking about the failure of their new job in order to switch attention from the emotions of Lizzo, who allegedly needs sympathy about Haight's appearance.
The song is in the top ten on all platforms. Criticizing Lizzo for being fat and calling her "mommy" is mean and fucking racist. Regardless of whether you are thin, fat or after plastic surgery, they will still try to shift their insecurities to you. Remember, it's just nerds who are looking at the most popular students in the class,
Cardi B said.
The video of Lizzo and Cardi B for the song Rumors was released four days ago and during this time has gained almost 13 million views on YouTube. In the music video, rap artists appear in the images of Greek goddesses in golden clothes. By the way, the negative in the network seems to have only fueled the interest of Internet users in the new clip: at least, this is evidenced by the rapidly growing number of views.